Fans Think Ariana Grande's Engagement Ring Has This Sweet Family Connection
She got engaged to boyfriend Dalton Gomez over the weekend, and her ring is everything.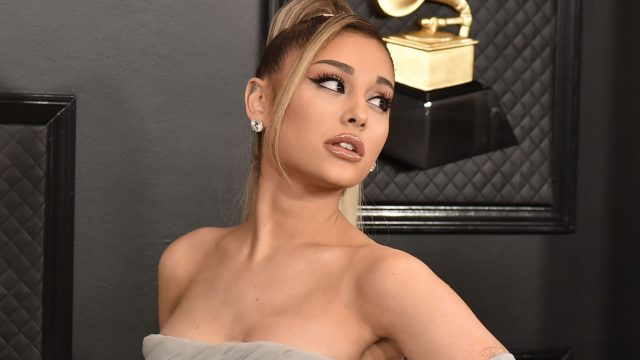 Ariana Grande is engaged to boyfriend and luxury real estate agent Dalton Gomez, whom she began dating in January 2020, and guys, her ring…? It's kind of a big deal. On December 20th, Grande posted a compilation of photos to announce her assumed engagement, including a closeup of the ring Gomez presented her with, and fans think there's a lot to unpack here.
"Forever n then some," Grande captioned the photo set, posted to her Instagram. Millie Bobby Brown commented, "oh my godddd… love u!! you deserve eternal happiness!!" and mom Joan Grande added, "Sooo sooo sooo happy!!!! Love you two!!!"
Bella Hadid commented, "OMGGGGGG!!!!" Hailey Bieber wrote, "YAYYYYYY!!!!????? so happy for you guys!!" Kim Kardashian said, "Soooo happy for u guys!!! ✨? Love you!!!"
And Demi Lovato wrote what we all were thinking, this ring is everything!!!!
Immediately, Arianators spotted the pearl and thought family heirloom. In 2014, Grande tweeted a photo of a ring her grandmother had made for her that included a pearl from her grandfather's tie pin. "She says he told her in a dream it'd protect me," Grande wrote.
And though it's hard to tell one pearl from another, fans believe that the pearl nestled next to that gigantic diamond on her engagement band is that pearl from her grandpa's tie pin.
Size-wise, it looks like it could be a match. The pearl is set on a gold band next to a lopsided oval diamond that looks to be around five carats, according to luxury jeweler Denis Stepansky, who spoke to Entertainment Tonight. He believes the diamond could be worth about $200,000 to $250,000.
Grande and Gomez have kept their nine-month relationship mostly offline and away from the public eye—the quarantine period has definitely helped them maintain their privacy. In 2018, Grande was engaged to SNL star Pete Davidson after a super-short courting period. Their relationship was highly publicized, which made its eventual end hard for fans to cope with.
But, now that she's found love again, fans are cheering. Grande has yet to confirm or deny if the pearl on her engagement ring is her grandfather's, but if it is, Gomez certainly knows what he's doing.