Ariana Grande's dog models for the latest cover of Vogue, and Twitter has declared him an official #mood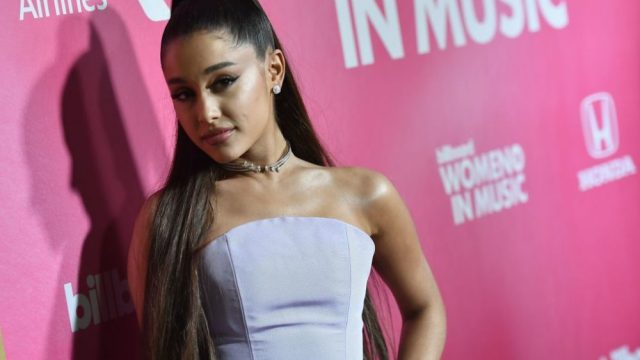 From Taylor Swift and her cats to Carrie Fisher and her dog, Gary, we love a good celebrity-pet bond. Ariana Grande and her pets are no exception. The singer has a pet pig, Piggy Smalls, and she's taken in several dogs, including former shelter dog Toulouse. Grande and Toulouse have always been a dynamic duo, often modeling together on Instagram, but today they took things up a notch and appeared together on the August cover of Vogue. And we love you, Ari, but Toulouse stole the show.
Vogue's latest issue hit stands today, July 9th, and in her cover story, Grande opened up about music, loss, and her past relationships. But Twitter couldn't get enough of Toulouse's cover debut, photographed by Annie Leibovitz. In the picture, the beagle-Chihuahua mix and his owner lounge on a sunny beach, both looking as cool as can be. Grande wears a black dress and a floppy black sunhat, while her partner-in-crime gives the camera his best Blue Steel. It's clear that the pup is a natural, and on Twitter, Grande joked about his spotlight-stealing debut.
"Thanks for allowing me to be in the background of Toulouse's first Vogue cover," she wrote, tagging the magazine.
https://twitter.com/udfredirect/status/1148582512249188353
Twitter agreed that the doggo was born to be a model.
false
false
false
https://twitter.com/udfredirect/status/1148585825870893056
https://twitter.com/udfredirect/status/1148585534740226050
Some joked that the attention might go to his head.
This may have been Toulouse's first big modeling gig, but he already had quite a following among Arianators. Grande frequently shares the spotlight with him on her Instagram page, and he even has his own page on the Ariana Grande Wiki. Basically, he's kind of a big deal.
According to ET Online, Grande has seven dogs—six whom she adopted on her own, as well as one dog, Myron, who belonged to her late ex Mac Miller. We're wondering if her other four-legged pals have modeling careers ahead of them, but for now, we're content to watch Toulouse serve some major looks.