Ariana Grande cried on stage while singing about Mac Miller, and her tweet about it is so bittersweet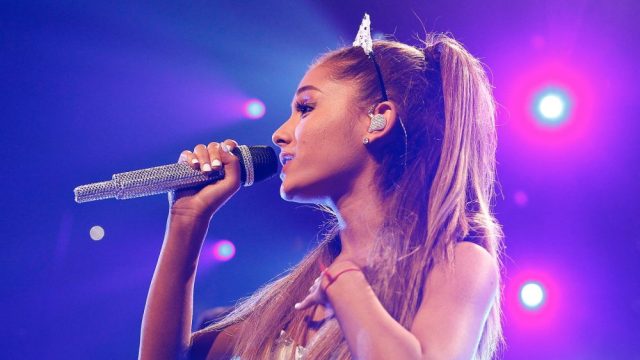 After a majorly eventful year—both personally and professionally—Ariana Grande's Sweetener World Tour is underway. By all accounts, the singer has been crushing it every night, and she even found ways to honor her late ex, Mac Miller, during her shows. However, during her most recent performance, Grande became overwhelmed with emotion on several occasions—all of which seemingly happened during moments related to Miller.
As People reports, yesterday, March 25th, marked six years since the release of "The Way," the first song that Grande and Miller ever collaborated on. The pair went on to record several more songs together, and dated from 2016 to 2018. It's understandable that the anniversary would be a difficult day for Grande, and during that night's performance of "Thank U, Next," she began to cry when she sang the line specifically about Miller.
https://twitter.com/udfredirect/status/1110392139144482816
Grande also got visibly emotional later in the song (though her backup dancers were there for support):
https://twitter.com/udfredirect/status/1108076686912815104
After the show, Grande acknowledged how hard it is to sing about him in a tweet, and thanked her fans for being understanding.
"I love u and thanks," she continued. "I feel your warmth up there and it helps and is greatly appreciated."
https://twitter.com/udfredirect/status/1110422454932000769
Before the night's show, Grande commemorated the anniversary of "The Way" in her Instagram Story. Over a plain black background, she wrote the words "six years" with a heart.
Several of the songs on Grande's latest album, Thank U, Next are about Miller and his death, including "Ghostin'" and "Imagine." BBC News notes that neither song is included in the Sweetener World Tour set, and during a soundcheck for the show, she said that "Imagine" was "too heavy" to perform live.
It's 100% understandable that singing about Miller would be difficult for Grande. We're sending lots of love her way.