Ariana Grande just admitted that her ponytail causes "constant pain"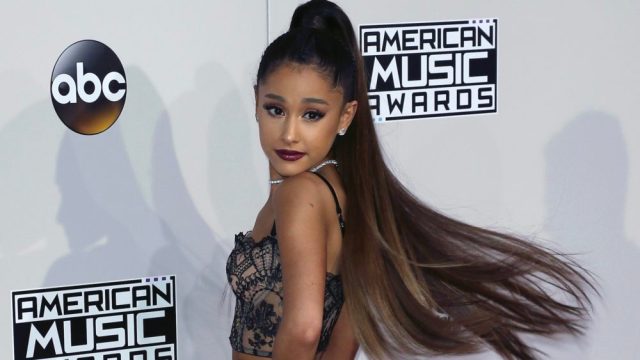 Like peanut butter and jelly or spaghetti and meatballs, some things really are better together…especially when it comes to Ariana Grande and her ponytail. Sure, she sometimes mixes it up, opting for a low pony, or a half-up updo, but it's rare to see Grande not rocking her signature look.
That said, it seems like her preferred style comes at a cost, which, in Grande's case, means "constant pain." As anyone who has ever rocked a high pony can attest, the style can be the culprit behind bad headaches, especially when worn particularly tight and for long periods of time. They can also harm hair follicles, potentially leading to hair loss.
Grande's reveal came after Camila Cabello—who appeared at the 2018 MTV Europe Music Awards on Sunday, November 4th—wore a high pony and then took to Twitter to note how severely uncomfortable it was. And because everyone associates the 'do with the "God is a woman" singer, she tagged Grande in the post.
Grande responded, writing, "I'm in constant pain always and don't care at all."
https://twitter.com/udfredirect/status/1059166811214598145
Ouch. Cabello followed up by sharing a photo of herself after she ditched the pony, and it's relatable AF.
Grande then joked that she's happy that Cabello still "feels things," posting, "MUST BE NICE *crying and smiling*."
https://twitter.com/udfredirect/status/1059175185708867584
https://twitter.com/udfredirect/status/1059175444098908160
Pain or no-pain, we have to admit that Cabello looked FIERCE.
All jokes aside, we're here for anyone rocking whatever look makes them feel cute and confident. Even if that means an incredibly uncomfortable high pony.