Piers Morgan got in a Twitter fight with Ariana Grande's mom, and Ariana clapped back SO hard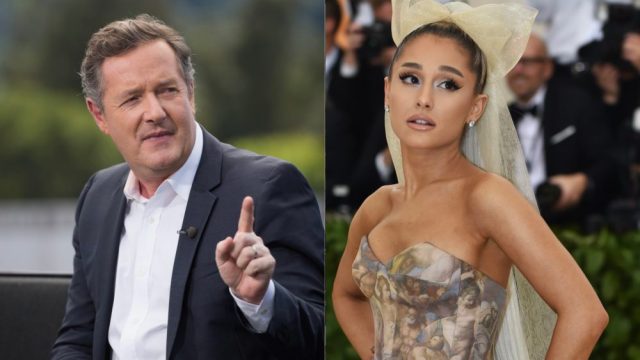 It's an undisputed fact that Ariana Grande is a true master at the internet clap back. So when right-wing journalist Piers Morgan tried to use her to slut-shame other female singers, she shut him down with a savage "thank u, next."
According to Newsweek, the feud began when Morgan criticized the band Little Mix for making a point about feminism by posing with sexist slurs written on their naked bodies. On the November 19th episode of Good Morning Britain, he reportedly accused the group of "using sex, sexuality to sell albums," and later on Twitter, he accused them of ripping off the Dixie Chicks. On November 19th, Morgan cited Ellen DeGeneres's International Men's Day photo montage as an example of "the hypocrisy of modern-day feminism."

Today, November 21st, Ariana's mother, Joan Grande, got involved, firing back at Morgan on Twitter and defending DeGeneres as "an angel" and noting that Little Mix was "paying homage."
"Honestly what is wrong with you @piersmorgan?" she wrote. "Didn't your mother ever teach you, if you have nothing nice to say, don't say it!"
Morgan responded to the elder Grande's tweet by doubling down on the accusations that DeGeneres was a hypocrite. And then he attempted to drag Ariana into the fight.
"As for Little Mix, I'd just prefer they use their talent to sell records rather than their nudity," he quipped. "As your own daughter does...!"
But Ariana was not here for Morgan's slut-shaming.
"Ellen is an incredible & kind human being," she replied to Morgan. "I use my talent AND my sexuality all the time because i choose to. women can be sexual AND talented. naked and dignified. it's OUR choice. & we will keep fighting til people understand. i say this w all due respect but thank u, next."
https://twitter.com/udfredirect/status/1065298951711031296
https://twitter.com/udfredirect/status/1065300013335556096
To further demonstrate her support for other women, Ariana added a message to Little Mix encouraging them to "keep fighting the fight."
https://twitter.com/udfredirect/status/1065299297065885696
We're all about women supporting women, and we're so glad to see Ariana Grande sticking up for other female artists. As for Morgan, we—like Grande—only have one thing to say: Thank you, next.