All the times Ariana Grande's celebrity impressions, including one of fiancé Pete Davidson, were spot on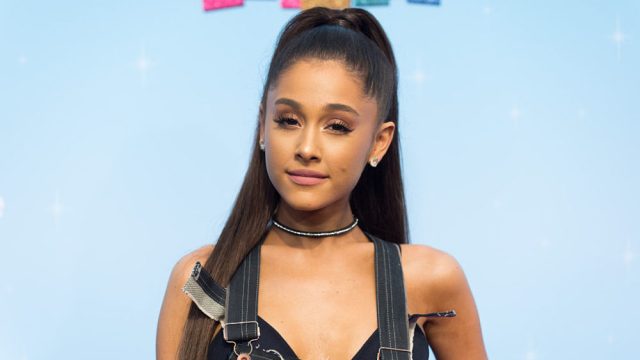 Ariana Grande is a woman of many talents. Aside from her amazing vocal range and her memorable bops, Grande also has an uncanny knack for impressions. It seems like the "No Tears Left To Cry" singer can mimic just about anyone, from Britney Spears to her own fiancé, Pete Davidson.
Grande appeared on the August 16th episode of The Tonight Show with Jimmy Fallon to talk about her new album, Sweetener. The singer gave fans a sneak peek of the album's tracks, including one called "Pete Davidson." She also reminisced about the time Davidson first met her grandmother over FaceTime.
"The first time they FaceTimed, she called him David. And she was like, 'Oh, David, you're a nice Italian boy, huh?'" Grande continued: "And he was like, 'Well, I'm only 20%, but I can be more if you want."
The singer's flawless imitation of Davidson's mannerisms immediately got a chuckle from the audience. She even lowered her voice as much as possible. Head to the 6-minute mark to see it for yourself.
https://www.youtube.com/watch?v=7Wu-UMKSATc?feature=oembed
Let's look back on some of Grande's other incredible impressions.
1That time she became Jennifer Coolidge in Legally Blonde.
https://www.youtube.com/watch?v=9h9UrBQpYqE?feature=oembed
During another appearance on The Tonight Show back in May, Grande perfectly embodied Coolidge's iconic character, Paulette. The singer nailed Paulette's most memorable line, "I'm taking the dog, dumbass," to wild cheers from the audience.
2When she pretended to be Jennifer Lawrence in a Saturday Night Live sketch.
https://www.youtube.com/watch?v=fMOKevIBwDs?feature=oembed
In a 2016 installment of "Celebrity Family Feud," Grande was a dead-wringer for J-Law.
"I'm just like a snack-a-holic, I mean, I love Pringles," Grande-as-Lawrence said when asked to give a bad habit she just couldn't quit. "If no one's looking, I'll eat, like a whole can. Like, every day is my cheat day, you know what I mean?"
3When she wowed us with her Celine Dion impression.
https://www.youtube.com/watch?v=05dKQsVOZXY?feature=oembed
In one of her very first appearances on The Tonight Show, Grande stunned the world when she sang "Beauty and the Beast" in the style of '90s Dion. She also revived the impression during a recent "Carpool Karaoke" segment.
4When she played Judy Garland on Saturday Night Live.
https://www.youtube.com/watch?v=7E5QXkkF5-U?feature=oembed
In a 2016 Saturday Night Live sketch that was cut for time, Grande was unbelievably convincing as Judy Garland trying to reboot her career with a musical space movie. Grande crooned "Get Happy" and even gave us a little "Choo Cha Booch."
5And the time Grande showed off just how versatile she was.
https://www.youtube.com/watch?v=ss9ygQqqL2Q?feature=oembed
During a 2015 round of "The Wheel of Musical Impressions" on The Tonight Show, Grande left Jimmy Fallon speechless with her imitations of Britney Spears and Christina Aguilera.
Is there anyone Grande can't imitate? We can't wait to see the other impressions she has up her sleeve.