Ariana Grande looks like an IRL Snapchat filter on the cover of British Vogue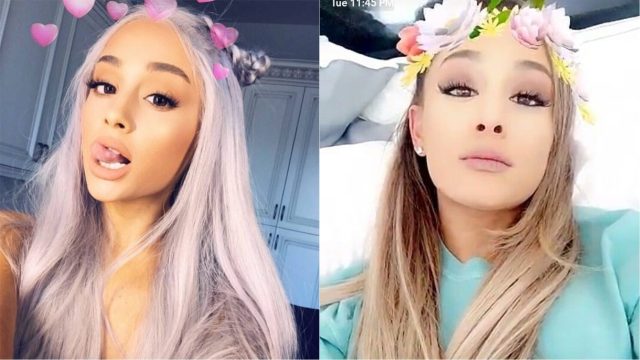 If there is one thing we can count on from Ariana Grande, it's a ponytail, and usually a high one. Grande has such a signature look that whenever she switches it up, it's a big. deal. Case in point: Grande's British Vogue cover. In the photos, Grande has wavy blonde locks, freckles, and a flower behind her hear, aka she looks like an IRL Snapchat filter. Her new look on the magazine cover is so glorious and bright that her face virtually is the filter.
Chris Appleton (also responsible for Kim Kardashian's blonde locks) did Grande's hair for the shoot, so we have him to thank for this mini-makeover. By the way, the Snapchat filter we're referring to is one of the more recent additions that features a lone tropical flower resting above one ear. Khloé Kardashian, in particular, loves this filter and used it when her daughter True Thompson made her Snapchat debut.
Grande shared the gorgeous photos on social media with the caption, "Thank you [British Vogue]  I don't even know where to begin to express my love and gratitude."
Click through Grande's photo gallery, because she is ~unrecognizable~.
Even Katy Perry is shocked, commenting on the photo: "Omg I've never seen you like this."
For comparison, here's Grande rocking the actual filter.
The filter adds little freckles to your skin, which Grande seems to have in her British Vogue cover as well. We honestly wonder if the artistic director was like, "Hello everyone, today's inspiration is: Snapchat filter." Or if Grande even suggested it herself.
Read the full interview when the issue hits newsstands Friday, June 8th.