How to live-stream Aretha Franklin's funeral today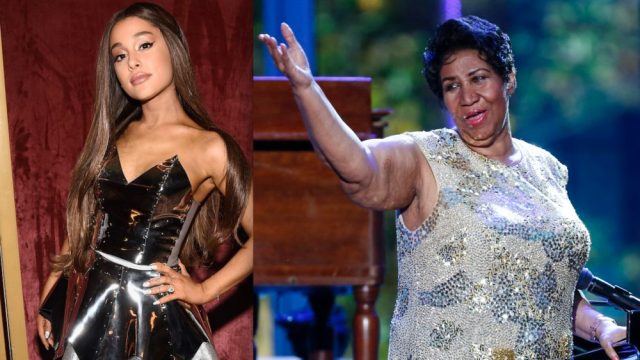 Ever since news broke that soul singer Aretha Franklin died from complications of advanced pancreatic cancer at age 76 on August 16th, fans and celebrities alike have been paying tribute to the music legend. Both her musical legacy and civil rights activism meant so much to many across generations.
Her family hosted two public viewings for fans to celebrate her life and legacy, with mourners gathering at the Charles H. Wright Museum of African American History in Detroit, Michigan, on Tuesday, August 28th, and Wednesday, August 29th, to pay final respects.
On Friday, August 31st, family and friends will gather at the Greater Grace Temple in Detroit, Michigan, for the funeral, where Ariana Grande, Stevie Wonder, Faith Hill, Jennifer Hudson, Fantasia, Shirley Caesar, Chaka Khan, and others will perform. The funeral begins at 10:00 a.m. ET, and you can watch a live-stream of it here.
The Associated Press reports that Grande was asked by Franklin's family to perform at the private funeral service after her stunning performance of "(You Make Me Feel Like) A Natural Woman" on The Tonight Show Starring Jimmy Fallon after her death.
https://www.youtube.com/watch?v=xN6C_WuEbGI?feature=oembed
Like so many others, Grande was inspired by Franklin, telling Fallon that she was lucky enough to meet her a few times, most notably when the two performed at the White House together. Grande said she was "so sweet," and that it was an "honor" to have met her. She also recalled a time when Franklin called on the phone, hoping to send her some music samples from her grandson, who was trying to break into the music industry.
"I was like, 'Oh my god, I'd be honored to listen. Thank you for thinking of me. Text me the MP3 or something,' shared Grande. "And [Aretha] was like, 'Well, I don't know how to do that, so I'm gonna send it to you.' And four months later I got a package with a CD," adding, "It was nice, it was great."
https://www.youtube.com/watch?v=Xooxd-qSVoU?feature=oembed
Aside from the musical line-up, speakers at Franklin's funeral will include former President Bill Clinton, the Rev. Jesse Jackson and Smokey Robinson.
We're sure it will be a beautiful service in celebration of a beautiful life.