Aretha Franklin's family spoke out about her eulogy, calling it "offensive and distasteful"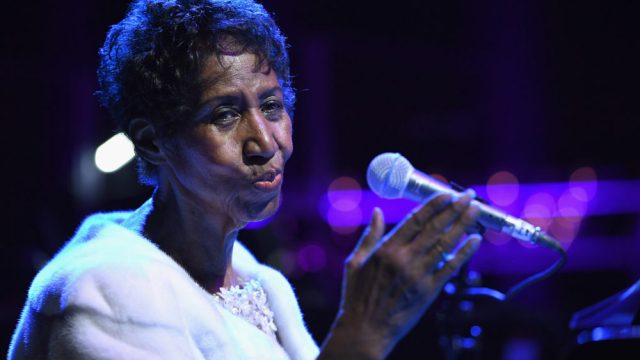 On August 31st, the Queen of Soul, Aretha Franklin, was laid to rest. Dozens of influential figures appeared at the ceremony to pay their respects, from former president Bill Clinton, to the Reverend Al Sharpton, to Ariana Grande. But when it came time to eulogize the world-renowned singer, Reverend Jasper Williams Jr. delivered a speech that Franklin's family has since condemned as "offensive and distasteful."
CNN notes that in his speech, Williams spoke about black-on-black crime while seeming to dismiss the Black Lives Matter movement.
"If you choose to ask me today 'do Black Lives Matter?' let me answer like this: No, black lives do not matter," Williams said in his eulogy. "Black lives will not matter. Black lives ought not matter. Black lives should not matter, black lives must not matter until black people start respecting black lives and stop killing ourselves, black lives can never matter."
The pastor also said that a single mother "cannot raise a black boy to be a man" (Franklin herself was a single mother to four sons).
https://twitter.com/udfredirect/status/1035646950597701636
In a statement issued on September 3rd to the Detroit Free Press, the singer's nephew, Vaughn Franklin, wrote that the Franklin family found the eulogy "offensive and distasteful."
"Rev. Jasper Williams spent more than 50 minutes speaking and at no time did he properly eulogize her," the statement read.
Franklin's nephew explained that Williams had been selected for the eulogy because he had eulogized other family members, including Franklin's father, Reverend C.L. Franklin. However, he ended his statement by saying the family was unhappy with Williams' performance.
"We feel that Rev. Jasper Williams, Jr. used this platform to push his negative agenda, which as a family, we do not agree with," he concluded.
Many agreed with the Franklin family, tweeting that Williams' eulogy didn't do the legendary singer justice.
false
In a September 1st interview with the Atlanta Journal-Constitution, Williams stood by his eulogy, saying,
"I know it's controversial. When you're criticized as much as I've been, you don't let it get to you. I know where my heart and head are, and I'm willing to explain and talk about it."
No matter where one stands on Reverend Williams' eulogy, we think we can all agree that Aretha Franklin was an icon and should be remembered for her incredible life—not the words of one man.