Salons are closing due to coronavirus, but here's how experts say you can keep up your beauty routine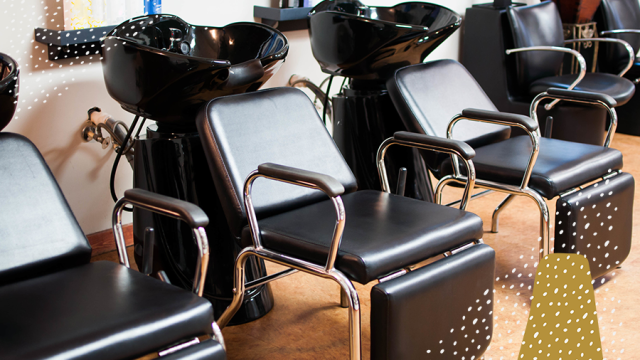 From getting our nails done to getting our hair cut, there are certain things we do as personal forms of self-care that help us to look and feel our best. Sometimes, we plan these beauty appointments months in advance, patiently counting down the days until we can freshen up our hair color, snip those split ends, or replace that outgrown gel mani. But with salons across the country having to temporarily close their doors to help stop the spread of coronavirus (COVID-19), many of us have had to hold off on our normal beauty appointments.
That's where the art of DIY-ing comes in. If you're staring at your gel nails, thinking, "How the heck can I get this off?," we're here with tips from the pros to help you out. Plus, we're sharing how you can keep your hair healthy and your tan looking fresh—all from the comfort of your home.
Here's how you can deal with beauty salon closings during coronavirus.
First thing's first: Should you be going to the salon during coronavirus?
In the same way that gyms are closing because of coronavirus, so are salons, so the short answer here is no. Because coronavirus is believed to spread through inhaling respiratory droplets released when an infected person sneezes or coughs, or from touching an infected surface and then touching your eyes, nose, or mouth, it's advisable to reschedule (if your appointment has not yet been canceled by the salon itself). Right now, the name of the game is social distancing.
Instead of going in for a hair, nail, or tanning appointment, try buying a gift card to the salon for the cost of your regular service to use at a later date. That way, you can still support the small, local businesses you love without putting yourself or others at risk.
Hair salon closures:
Most hair salons are closed due to coronavirus, but that doesn't mean you can't keep your mane healthy.
Apply a leave-in conditioner or hair mask for extra moisture and TLC.
Whether it's creating a DIY rinse-out hair mask using ingredients you probably already have in your kitchen or investing in a leave-in conditioner specific to your hair type, take this extra time at home to show your strands some love.
When you're done washing or masking, celebrity hairstylist Paul Labrecque recommends rinsing your hair with cold water to seal your hair's cuticle and lock in shine.
Keep bleached or blonde color fresh (not brassy!) by using a purple shampoo.
Blondes: If you're looking for ways to hide the fact that your roots are growing in or your color is going brassy, we hear you. For people with bleached hair, those regularly scheduled salon appointments are extra important. But as blonde expert and stylist-to-the stars Justin Anderson told us, there's an easy way to extend your color's life.
"There are lots of minerals in water, which puts buildup on your hair," he explained. "Chlorine, which is also found in water, can strip out any glosses that are done at the salon, too, so unless you have a heavy-duty filter on your shower, your blonde is just going to naturally turn yellow over time." To combat this, he recommends using a deeply pigmented purple shampoo once a week to help counteract oxidized, yellow-y tones.
For brunettes looking to keep color fresh, try a blue shampoo.
If you really need to, trim bangs or dead-ends at home.
Most expert hairstylists we've talked to do not recommend cutting your own bangs or executing a drastic chop at home (that's what the pros are for!). But if you're really in a bind while hair salons are closed, it's ok to *carefully* give yourself a trim. Find out pro advice for how to trim your bangs here or how to snip split ends here.
Nail salon closures:
Wondering how the heck to get that gel manicure off while dealing with nail salon closures? Here are some tips for keeping your precious claws in tip-top shape—from the comfort of your couch.
Do NOT peel off gel polish.
"Please do not peel nail polish!" advises Christina Quercia, head of nails for Glamsquad. "Once you peel it off, it will weaken nails and will more likely cause breakage or white lines on your nail plate. Take your time and remove gel properly."
To remove gel polish on your own, grab some acetone-based polish remover, aluminum foil, oil, cotton, a nail file, and either a wooden stick or a cuticle pusher to begin the removal process yourself. Quercia notes that if you do not have a pusher, you can use a soft buffer or a spoon—yes a spoon—to get the job done. You can also invest in a gel mani removal kit for extra ease.
Lisa Logan, consulting manicurist for Nails. Inc, says to start by using the nail file to remove the shiny top layer of gel—this ensures that the acetone will penetrate the polish. Make sure to get as close to your nail bed and free edges as much as possible.
"Be gentle and careful to not over-file your nails. If it starts to hurt or burn, stop," says L.A.-based gel nail art specialist Brittney Boyce.
Next, you'll want to take a small cotton ball saturated in acetone and lay it on a small square of tinfoil. Fold the foil around your finger tightly; ensure that it is gripping the cotton ball to your nail.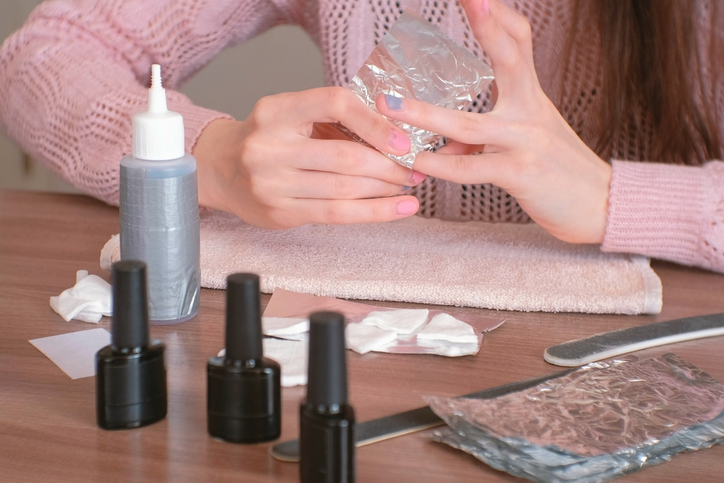 Next (and perhaps most importantly), simply wait, says Essie's lead global educator Rita Remark. "In the salon, they may only wait 8-10 minutes with the acetone soak on, but if you're doing this at home, wait a little longer," she says. "Don't peek at them 8 minutes in, either, as this can cause the acetone to evaporate. Set a timer for 15 minutes and watch a show until it rings. After that, you're free to check and see if the polish is lifting. The base should be lifted too."
Finally, remove any excess gel with the pusher or spoon.
Apply a nail strengthener.
Once you've removed your gel mani, it's a good idea to apply a nail strengthener to your bare nails to keep the nail bed hydrated and healthy until the next time you can go in for a professional treatment. This Sally Hansen strengthener serum won a 2020 Beauty Crush Award for its use of vitamins A, C, and E to boost nail health and strength.
Give yourself an at-home manicure.
Even if you're the kind of person who gets her nails done weekly, you're bound to have a bottle or two of polish lying around the house. Try painting your nails at home with these expert tips from pro nail artists to keep your hands and nails looking good.
Tanning salon closures:
Since we all know what kind of damaging effects UV rays have on our skin, you really should avoid tanning salons. But since some people like to get regular spray tans, the closing of tanning salons because of coronavirus can affect that year-round glow.
Try a self-tanner.
Self-tanner has come a long way since the days of streaky, orange formulas that were less than flattering. From products made just for your face to those made for your entire body, there are tons of lotions, sprays, and serums that work to gently darken the outer layer of skin and give you that just-stepped-off-the-beach glow. Check out some of our favorite self-tanners and stay looking sun-kissed.
There you have it: proof that, just because salons are closing because of coronavirus right now, we can still look and feel good. Stay healthy, everyone!
As information about the coronavirus pandemic rapidly changes, HelloGiggles is committed to providing accurate and helpful coverage to our readers. As such, some of the information in this story may have changed after publication. For the latest on COVID-19, we encourage you to use online resources from CDC, WHO, and local public health departments, and visit our coronavirus hub.