April the giraffe is pregnant again, and the internet collectively just said "oof"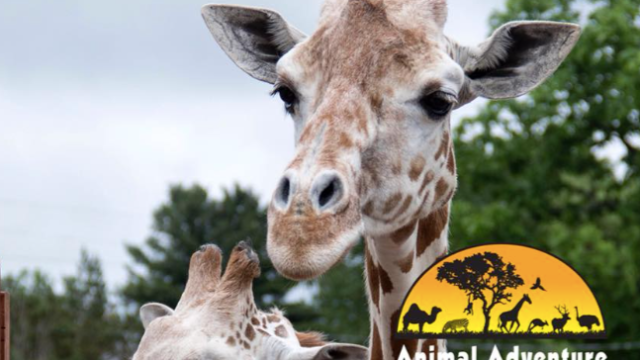 April the giraffe is pregnant again. Who is April and why do we care? We'll tell you. April is a giraffe who lives at the Animal Adventure Park Zoo in upstate New York, and everyone is obsessed with her. When she was pregnant in 2016-2017, the zoo set up a live-stream, and it was such a big deal that 1.2 million people watched April give birth. ICYMI: Tom Hiddleston even narrated the event.
Jordan Patch, Animal Adventure Park owner, told Today on July 25th, 2018 that April was expecting again. However, unlike most giraffes who are pregnant for about 15 months, Patch says that April, who has been pregnant five times, "likes to go 16, 17, 18…19 months." The frenzy surrounding her pregnancies is because last year she was "due" in February 2017 but didn't give birth to a little calf named Tajiri until April 2017. People were watching that damn livestream for months.
And get this, the livestream for her current pregnancy has already begun. You can watch it now, but it's mostly just April and Tajiri slowly walking around and eating.
April is supposedly due in spring 2019, but after Tajiri's birth plans took forever, the internet is like, "Cool, April, see you and that new baby in a year."
It's not that Twitter isn't supportive of April, the famously pregnant giraffe, but it's more like, "Oof, here we go again."
https://twitter.com/udfredirect/status/1022481903092486144
https://twitter.com/udfredirect/status/1022462614494953472
However, despite the internet's groans, April's pregnancy is an awesome happening.
"Every calf counts," Patch revealed in the same Today interview. "Giraffe populations have declined by 40 percent in the past 30 years, so every calf born in a captive management program means something."
Congratulations on your pregnancy, April.