11 movies you can stream on April Fools' Day if you need a little prank-spiration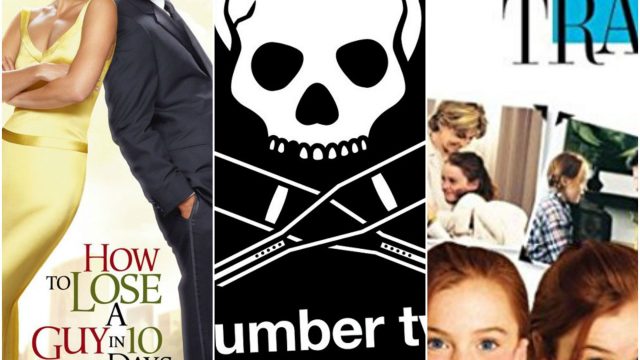 Trickery is a frequent theme in films, no matter the genre. So streaming an April Fools' Day movie is actually a more fitting activity than it may seem. Whether you're looking for inspiration or prefer to live through characters in movies, we have 11 movies available to stream that will put you in the mood for pranks, tomfoolery, and practical jokes.
In 2018, April Fools' Day falls on Easter, so this lighthearted holiday has got some competition this year. But you can honor it by devoting an hour or two to watching a movie that has a prank-focused plot. Of course, there are movies that are solely defined by their pranks (like the Jackass films, for example), but if those aren't really your style, there are plenty of other movies that have mixups and hi-jinx galore.
While you'll probably be able to lose yourself in whatever Netflix has planned for April 1st this year (last year, Will Arnett hosted a fake Netflix Live show), you might not want to be at the mercy of Netflix's whims — after all, it might take you a minute to even realize the company is pulling a prank.
Instead, here are 11 tried-and-true movies for April Fools' Day viewing that feature practical jokes (and other shenanigans) and are available to stream now to put you in the April Fools' spirit.
1The Jackass movies
Although they might not be everyone's cup of tea, there's no denying that the Jackass movies are pretty much the epitome of April Fools' Day shenanigans. And you can stream Jackass Number Two, Jackass 3.5, and Jackass Presents: Bad Grandpa .5 (plus bonus material) on Netflix to fulfill all your prank needs.
2Natural Born Pranksters
Another prank film on Netflix is Natural Born Pranksters, which is pretty much a variation on the Jackass films with hidden cameras and gross gags.
3How To Lose a Guy in 10 Days
How To Lose a Guy in 10 Days isn't technically about April Fools' Day, but it feels appropriate since both Kate Hudson's Andie and Matthew McConaughey's Ben are conning each other in this delightful rom-com that's available to stream on Netflix.
4Overboard
If you're still craving rom-coms after How To Lose a Guy in 10 Days, then go with this classic starring Hudson's mom, Goldie Hawn. Hawn's real-life partner, Kurt Russell, plays a man who takes advantage of her character's amnesia and manipulates her into believing she's his wife.
Sure, it's twisted, but it's somehow endearing. Plus, it will prepare you for the Overboard remake starring Anna Faris that is out on May 4th this year. You can pay to rent the original Overboard in HD for $3.99 on Amazon, YouTube, and Google Play. And if you have Starz on Amazon, it's free.
5Ocean's Eleven
Does conning a casino out of millions and millions of dollars count as a prank? Well, consider it the ultimate prank so you can watch this Brad Pitt, Matt Damon, and George Clooney movie this April Fools' Day on Netflix. Plus, Clooney is pretty much the ultimate on-set prankster, as The Telegraph reports, so he'd approve. And just like with Overboard, watching Ocean's Eleven will prep you for Ocean's Eight, the female-led reboot that comes out in June.
6The Hunchback of Notre Dame
They don't celebrate April Fools' Day in Disney's The Hunchback of Notre Dame, but they do celebrate the Feast of Fools. Just prepare to get upset at how poor Quasimodo is treated during the event when you rent it in HD on Amazon, YouTube, or Google Play for $3.99.
7The Parent Trap
Twin sisters (deservedly) trick their parents by switching identities and trying to get them back together. And not only are there two sisters in The Parent Trap, but there are two versions to choose from. You can catch Hayley Mills in the original 1961 one for free if you have a Hulu account. Otherwise, you can pay $3.99 to watch the Lindsay Lohan version on YouTube, Amazon, and Google Play.
8Animal House
The original frat house movie from National Lampoon has some pretty sick pranks, including one with a dead horse. But if you can handle that, then it's available to stream in HD for $3.99 on Amazon, YouTube, and Google Play. It's also free to stream if you have an HBO Now account or HBO on Amazon.
9Fools Rush In
While there are the typical deceptions that go down in this Matthew Perry and Salma Hayek rom-com, this one's on the list more for its name than anything else. But hey, any excuse to watch Fools Rush In is fine by us. You can rent it on Amazon, YouTube, and Google Play.
10Super Troopers
Even though they are state troopers, the characters in this Broken Lizard movie are experts in all things shenanigans. Along with paying to rent it, Super Troopers is free if you have a Cinemax subscription on Amazon.
11April Fool's Day
We'd be remiss if we didn't include the movie named after the holiday — 1986's April Fool's Day. There is also a straight-to-video remake from 2008, and you can rent both films on YouTube, Amazon, and Google Play. Unfortunately, the film is more horror-based than anything else, so the jokes are a little less fun and far more gruesome.
No matter which April Fools' Day-inspired movie you watch, you'll be reminded of just how tricky we humans can be — and you just might end up with some prank-spiration.