April is also coming back to "Gilmore Girls" and people have opinions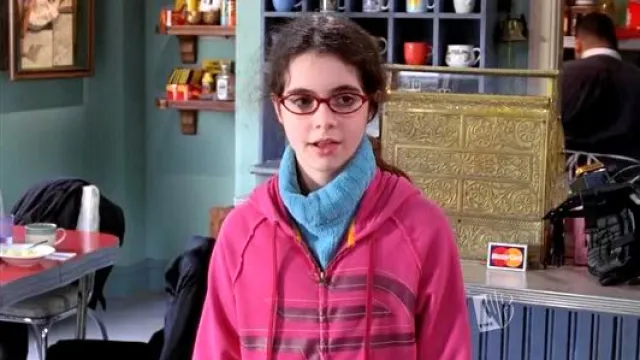 Prepare your nostalgia-loving hearts, because we have some more Gilmore Girls: Seasons casting news. It's been a big week for the show, as some of its most beloved cast members have been confirmed to join the Netflix reboot. The regulars—Rory, Lorelai, Emily, Luke, Lane and Kirk—were confirmed weeks ago, and now, the rest of Stars Hollow is following. It's all happening!
Our hearts exploded when Milo Ventimiglia posted a pic from set, confirming his involvement and giving Rory/Jess shippers everywhere something to squeal about. Also confirmed were Jared Padalecki (Dean), Matt Czuchry (Logan), Liza Weil (Paris), Danny Strong (Doyle), Yanic Truesdale (Michel), David Sutcliffe (Christopher) and Emily Kuroda (Mrs. Kim). Now, we have word of another actor returning to Stars Hollow: Vanessa Marano as Luke's daughter April. And people have some seriously mixed feelings about the announcement.
You might remember April Nardini from the last two seasons of Gilmore Girls. Her character was, to put it bluntly, not a fan favorite. After the news was announced, fans took to Twitter to express their feelings. And they had a lot to say.
Some fans are just downright mad.
They're taking out their frustrations in all caps.
Some fans are so annoyed, they're having physical reactions to the news.
Others are expressing their feelings through gifs.
Some people aren't excited, but they're democratic about it.
The Gilmore Guys are pretty stoked about it, though. So if you're on #TeamApril, give Kevin and Demi a shout.
Still, this tweet pretty much sums up how most Gilmore Girls fans feel right now.
But it was probably inevitable that April would come back. After all, she is Luke's daughter; she didn't just disappear because Gilmore Girls fans had a problem with her. It would be pretty weird if she didn't at least make a small cameo. But if you're struggling to accept the news that April is back, don't worry—Vanessa herself has mixed feelings about her character too.
"That poor, poor 12-year-old fictional character was hated, which I get," the actress told E! News in October of last year. "I kind of hated April Nardini, too, as a fan of the show. She broke up Luke and Lorelai!"
Vanessa had a mini on-screen reunion with Lauren Graham a few years ago when she guest-starred on Parenthood. She also starred in The Young and the Restless and is currently starring in Switched at Birth. So don't hate the actor—hate the character. Who knows, maybe this time around April will be more likeable!