The Apple Store will now accept broken iPhones for trade-in
Each product we feature has been independently selected and reviewed by our editorial team. If you make a purchase using the links included, we may earn commission.
About a year ago, I dropped my phone on my way to coffee. It was early in the morning, I was late to an appointment, and I was tired. The screen practically shattered. This did not help my mood. After spending more money than I wanted to fix the screen, I'm happy to report that my iPhone 5S is still kicking.
Well, a report by 9to5Mac and confirmed by an Apple spokesman Friday announced that Apple stores will now accept iPhones 5s, 6, and 6 Plus with cracked screens and busted cameras. I sure wish this had been the case last February! Oh well, better late than never.
Apple is also partnering with screen protector manufacturers like Belkin to install screen protectors for iPhones in-store. In the past, Apple Stores were told not to perform screen protector installations on customer iPhones given the possibility of the installation of a third-party product not going smoothly. Now it seems that Apple is lightening up their policy.
Now those of us who let our kitties play with our phones have even lessto worry about.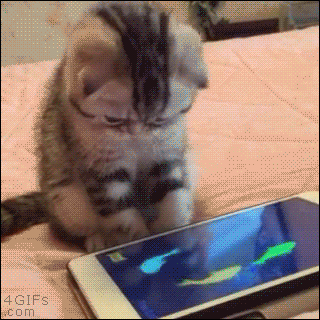 While the Apple Store Reuse and Recycle iPhone trade-in program has always offered store credit for older models, that particular program applied only if the iPhone was in decent condition with no cracks or other defects. And whose phone after even a month of use is that perfect? This new policy means any iPhones (as long as they are the right models) can earn credit to help users buy an upgraded phone. The amount of credit users receive depends on the extent of the damage, with 9to5Mac explaining that the plan applies to iPhones with "damaged displays, cameras, and buttons within reason." I wonder what "within reason" means?  According to 9to5Mac, the trade-in values are $50 for an iPhone 5s, $150 for an iPhone 6 and $200 for an iPhone 6 Plus.
Well, now we have an even better excuse to visit the cuties working at the Apple Store Genius Bar and flirt. What? Smart is sexy.