Apparently, Troian Bellisario has already told us who A.D. is on "Pretty Little Liars" and we just didn't notice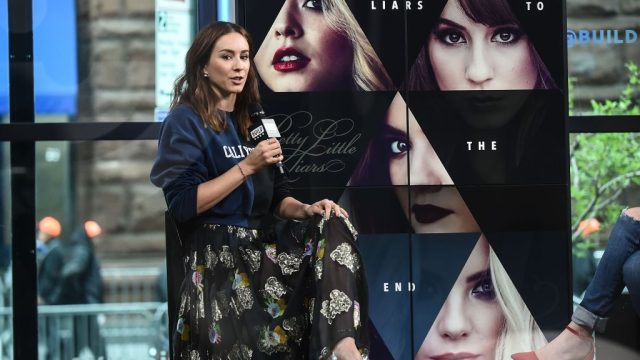 You know how Spencer sort of gave herself away to officer Marco by joking with him at the bar that she just got done "burying a body?" Well, just like that, Troian Bellisario has been spilling Pretty Little Liars secrets this whole entire time, and she's already told us who A.D. is — it's in one of her silly interview jokes. So this whole time we've actually known who A.D. was just by reading her interviews. Now we have to go scour each and every one for probably suspects. Apparently, it was just the best way to keep PLL secrets. Bellisario told Entertainment Weekly, "That was the best way to keep the secret — to bluntly say exactly what would happen and then say, 'But can you ever trust me?'"
She added, "And because I've been on a show with the word 'liar' in the title, nobody believed me! I think I said it about, like, Mona at one point." Wait, did you say Mona? Is this another hint? She is being rather helpful these days.
How did Troian Bellisario get away with spoiling PLL all this time?
Dropping hints was also a great marketing strategy for a show that relies on suspense and downright absurdity. Showrunner Marlene King was actually the only who ever accidentally slipped up, she said in the interview.
That time, it was because Ashley Benson (who plays Hannah) came to a meeting in her orange jumpsuit, and King tried to play it off like they were dressing up for Halloween. "But fans knew," King said.
If there's one thing about PLL fans, it's that they will figure stuff out.
They won't have to for much longer! In the most recent episode, it really does look like Mona is more involved in A.D.'s final plot than she lets on. Mona has always been bad news and her obsessive mapping is not a good sign. But the best clue that it might be Mona? Bellisario just dropped her name yet again. Admitting you're a liar and hiding in plain sight is what Pretty Little Liars is all about after all.