AOC and the Queer Eye guys were spotted together on Capitol Hill, and the internet is losing its mind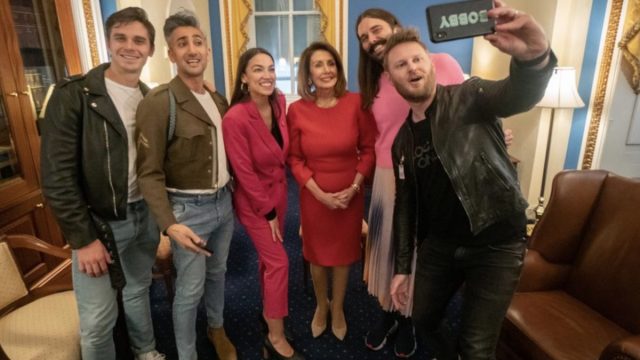 Can you believe? Queer Eye's beloved Fab 5 has taken on Congress. Four members of our favorite Netflix makeover crew spent the day on Capitol Hill today, April 4th, alongside U.S. Representative Alexandria Ocasio-Cortez and Speaker Nancy Pelosi. And, of course, the internet lost its collective mind. Jonathan Van Ness, Bobby Berk, Antoni Porowski, and Tan France (sans culture expert Karamo Brown) arrived in Washington, D.C. to advocate for the Equality Act, a bill that seeks to combat discrimination on the basis of gender identity and sexual orientation.
Van Ness, grooming expert on the hit series, shared an Instagram video alongside Ocasio-Cortez with the caption, "Talking policy with @ocasio2018#equalityact."
https://www.instagram.com/p/Bv1xqj1nWTc
Prior to Van Ness's post, Pelosi took to Twitter to share the fiercest selfie with the group, writing, "@QueerEye: feel free to let us know when you want @RepAOC & me to fill in next. #Fab5"
The brilliant meeting of the minds comes a few days after Berk, interior expert, tweeted Ocasio-Cortez offering his design expertise. He tweeted on April 1st, "Hey @AOC! I'm in DC all week girl! Put me to work! "Have time… will work for democracy!" To which the Congresswoman replied, "Swing by our office! We've barely had time to hang anything up, three of my staffers are expecting babies, and we've got a bach pad/warehouse type situation out here. SOS! (The good news is that people are leaving a rainbow of positive post-its on our wall so that's cute)."
We can't even believe.