Anya Marina is ready to soar on new album "Paper Plane"
You know a song and/or record is good when it gets stuck in your head, but you know it's actually awesome when you're okay with it getting stuck there. That's how I feel about Anya Marina's new indie-pop rock record — Paper Plane — and luckily, you can see it/hear it for yourself when it's released on January 29th.
Marina's music has been featured on Twilight, Gossip Girl (her cover of T.I.'s "Whatever You Like" was in the infamous threesome scene with Hilary Duff and Dan Humphrey), Grey's Anatomy, and the trailer for Judd Apatow's new Netflix series LOVE. Other than her sweet, sweet music, she's an all-around hilarious and cool gal.
I met up with her at a downtown NYC bistro to talk about her new album, her BFF comedian Nikki Glaser, our love of Master of None, and everything in between.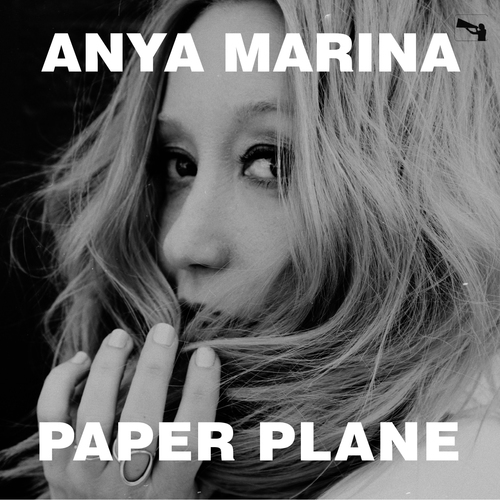 HelloGiggles (HG): How's everything? Excited for the new record to come out?
Anya Marina (AM): YES. I'm so excited. It's been a really long time since the last record. I wrote a bunch of songs with Eric Hutchinson, [whom] I love. He's a good friend. He really helped shape a lot of them — a few that were on the shelf for a couple of years and I just wasn't positive about them. He helped dust them off, wrote a bridge for both of them, and really shined them up. So I'm excited for those.
There's one that I wrote with Bess Rogers and it's called "We Were Happy Once," and it's one of the saddest songs I've ever written. I love the lyrics on this record. So yeah, I'm excited. A bulk of it was done in Portland with Dave Depper, who is in Death Cab for Cutie. He produced about six of the tracks that ended up on the record. It was just so much fun working with him. He also took a couple of the demos and really flexed them out. There's this one I wrote on my iPhone recorder. /sings part of "Not Mine"/ It was a cappella the whole way. He finished it off just by listening to that. It's such a rocking song now.
HG: So cool. I love the record. How'd you come up the album name Paper Plane?
AM: It's a line from the song "Shut Up," which says, "If I folded my heart into a pretty paper plane and flew it cross the Hudson, would it come back again?" And I was thinking about each of the songs on the record as kind of being a metaphorical love letter. And then I kept visualizing each song as a love letter that you folded into a paper plane and flew across the Hudson.
At the time, I was really sort of on the precipice of writing an actual love letter to this person and I was like, "What if I do this? It's the most foolish thing in the world to do." Every book on dating says you should not do anything like that, but I was really compelled to write this letter that was kind of laying out my whole heart or a good chunk of it. So the song is asking if I take that emotional risk, am I fucked? Will it ever come back? Will I be rewarded for that? And that's sort of what I learned in love, which is not a whole lot . . . that there are no guarantees. I heard my friend say, "You have to have faith before you take the leap and but you don't actually have the faith until after you get to the other side." So I was thinking this is a great album name.
HG: Did you ever see Paperman — the Pixar short?
AM: No. What is it?
HG: Aw man. It's all about love, fate, and paper planes. It totally goes along with what you were saying! [Aside: I sent Marina the short later that day, and she said, "I don't think you could've sent me anything more perfect and EXACTLY right on the nose with what I was getting at with Paper Plane."]
So you lived with Nikki Glaser for three years, which is awesome. You are both such creative people — did you guys inspire each other a lot?
AM: Oh my god. Yeah, I mean "Is This Love?" is totally inspired by a story Nikki told me once. Nikki and I would talk in the living room a lot and cry. She would come up with jokes out of that and it was interesting to see. From the same conversations, I would go into songwriting, which is a little more contemplative and sad and maybe more serious. She would channel all that into comedy and things you laugh about. So it's all poignant. It's just different sides of the spectrum.
HG: It's so interesting.
AM: It's so interesting to me too. There was a time in my life where I thought I wanted to go into comedy. I wanted be on Saturday Night Live, but I never got the urge to do stand-up because I couldn't craft jokes. I knew that I was sort of funny and had a funny way of looking at things, but in my early 20s, I thought about putting it into song. It's definitely a different process than comedy.
The way that she works is so fast and I'm envious of that. It's like literally just that night she'll just go up on stage and start working out a thing live. Sometimes she would do five sets a night, but songwriting I spend a lot of time avoiding it. You know? And you don't have an audience to bounce it off of so fast. I mean it could be years before that happens. Unless you're constantly touring, which I'm not.
HG: Speaking of touring, you've toured with some pretty cool people like Jason Mraz, Joshua Radin — what would be your dream tour?
AM: Now? Probably touring with Nikki. I would love to. Eric just opened up for John Mulaney. He did a couple of dates with him. So yeah, dream tour: Nikki Glaser.
I would love to go out with Jason again. That was really fun. Everyone comes with their own fanbase. I really enjoy opening up for people for that reason. Exposed to a whole new group of audience members. I just want to tour with a lot of women because it's so fun to be on the road with girlfriends. I love Jewel and Tristan Prettyman. It's really fun working with singer/songwriters.
HG: Besides music, you do podcasting and talk radio, I always admire people that have multiple careers. Did you always want to be doing a little bit of everything?
AM: I did and I remember somebody saying, "Don't be a jack-of-all-trades, master of none." Which is a great show by Aziz Ansari.
HG: Um, so good!
AM: So he's proof positive that it works. I mean he's a raconteur of sorts: A comedian, writer, has a show on Netflix. I named my first album Miss Halfway for that reason because that song was one of the first songs I ever wrote and it's talking about that negative/self-critical voice that's in you. I gave it a voice to hope to work something out for myself within the song.
So the voice is saying you're never going to amount to anything if you keep spreading yourself so thin. At the time, I was working at a talent agency in LA. I wanted to be an actor. I also knew all these friends that were getting gigs and I wasn't. Auditioning for stuff all the time, but getting nothing. I got a few voiceover jobs, which was mind-boggling because I'd always been told that my voice was weird and quirky and high and raspy and whatever. I hadn't finished college yet and I was like maybe I need be a professor like my parents. That's what your 20s are for. I spent all of this time in my early 20s freaking out. I wrote half a novel and abandoned it. I just did everything halfway.
My family was really encouraging. My dad was a psychologist and he loved Joseph Campbell, whose famous quote is "Follow your bliss." So my father's always encouraging me like, "It's okay. Just follow your nose. Follow your bliss. Go for your dreams." The first time I got a check was from that song "Miss Halfway"; I got this huge check and I was like, this is crazy. I must be on the right track if I got paid for this song that was super vulnerable to write.
HG: How was making your record independently on PledgeMusic?
AM: It's been good. It's like the audience is your sponsor in a way and there's this dialogue that's cool that I never had before where they're like "Put that song on the record. It's great!" And I'm like "No." And then 5 more people are like, "Do it." Then I'm like, "Alright, I'll do it. I didn't know."
HG: That's pretty cool because usually you see artists have extra songs and you're thinking, "that should've been on the actually album."
AM: Yes, exactly. That's what I did with a couple of songs and I'm really glad I did and it's because of the PledgeMusic audience. I might do another PledgeMusic campaign for a covers EP.
HG: Oh sweet! Your T.I. cover was huge and on Gossip Girl. Any other songs you want to cover?
AM: Yeah, that almost-threesome! I've been doing a mash-up of "Whatever You Like" and Drake's "Hotline Bling." I've covered "Whistle" by Flo-Rida, I have an acoustic version of that. Yeah, I need to do "Hotline Bling." It's really sad when I do it. It's such a pretty melody. It kills me. He's really good.
There are a few covers I want to do from the 70s and 80s. I might do something from every decade. That would be fun. I just recorded a cover of Icona Pop's "I Love It" and I love it. I hope that'll be out this time next year.
HG: Yeah! I really want to hear it. Going back to Gossip Girl and having your music in TV shows. Are there any TV shows or movies that you'd love to see your music in?
AM: I really love the music from Master of None, but I don't think my stuff would fit. Maybe "Not Mine." [Ansari] has a bunch of soul even though his stuff sounds more retro. The supervisor on that show is so good. Orange Is the New Black. Any Wes Anderson film. I have a song "Go To Bed" that's kind of like Jon Brion quality, and I would love to see that in a movie. Any Noah Baumbach movie, I'd love to see my stuff in. If the movie was great and poignant in some way, I'd be on board.
HG: I love those shows. All awesome choices.
AM: The fun thing about writing music is that as I'm writing, I get a visual and then when you see it juxtaposed in someone else's visual, that's just like doubly exciting to me and I always love that. Like when I saw my song "Miss Halfway" for the first time on Grey's Anatomy, it was on the season finale and it was so long. It was like a minute-and-a-half that they used and it was so loud. I just remember yelling at the TV, "It's SO loud. I can't believe it's so loud. Oh my god." It was really cool. And it was a season finale, so everyone was watching.
HG: That's so sick. If someone hasn't listened to your music before, what songs would you tell him/her to listen to?
AM: Ohhh. This entire new record. I really love the song "Shut Up." It's one of my favorites. I love "Move You," because I wrote it over this beat idea my friend Britt [Daniel] of Spoon sent to me and it turned a good song into a great song. I really love "Ordinary Dude," that I wrote with Eric Hutchinson. I love "Go To Bed" because I wrote it as a cynical love song about Disney and like my prince charming.
On my first record, I covered "Someday My Prince Will Come" because I grew up as almost like an only child. My sister didn't come til I was like 7. I spent a ton of time isolated alone on a mountain, so I lived in my fantasies a lot. Like someday this is all going to happen. So I wrote this song kind of about how ridiculous that whole thing is and at the same time, there's this element of deeply longing for that too.
As a woman and a feminist, I can find the humor in that and like the folly in it and at the same time, still have hope that I want it. I think that's one of my favorites off this record and I didn't realize until you asked me.
HG: I love that. Anything else you want to tell the HelloGiggles readers?
AM: I love what you guys stand for. Thanks for reading and let me know where you are. Follow me on Twitter, Instagram, and Snapchat (anyamarina) — it's so fun. Nikki got me into it. Sign up for my mailing list, so I can let you know when I'm coming to your city.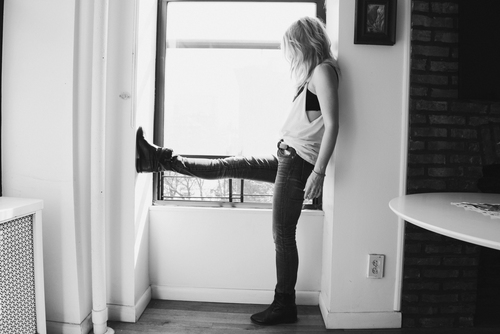 Catch Anya Marina live on tour, on the hilariously entertaining We Know Nothing podcast with comedians Phil Hanley and Sam Morril, and on January 29th check out her new album Paper Plane.
(Featured image & other images courtesy of Shervin Lainez, Instagram via Nikki Glaser)