Any potential Gossip Girl reboot has a Chuck Bass problem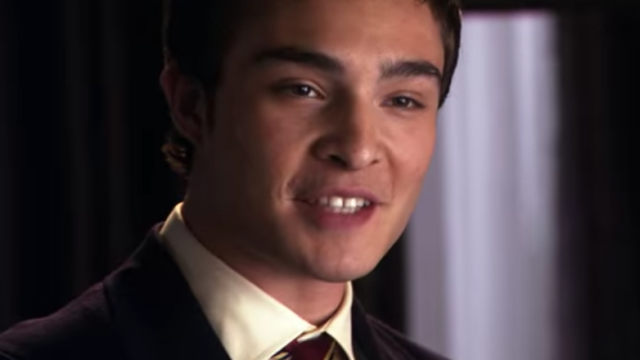 Trigger Warning: This essay discusses scenes of sexual assault from the premiere episode of Gossip Girl.
Nearly a decade after its television premiere, rumors of a potential Gossip Girl reboot have once again started circulating. During a recent CW event at the Television Critics Association, CW president Mark Pedowitz hinted that there was "discussion" of a possible return. We now live in a world where Gossip Girl could easily use Find My Friends and Instagram Stories to dig up their dirt, but it's easy to understand why fans would be excited to resume their consumption of all things salacious and accessorized.
Unfortunately, the show has one major issue to address: the actions of Chuck Bass.
For six seasons, Gossip Girl brought the fictitious and overly dramatic escapades of a group of teens on the Upper East Side to life. Throughout the series, Chuck remained a figure of romantic interest, painted as a troubled teenager with little in the way of adult guidance. Chuck epitomized the lavish parties and decadent, carefree lifestyle that was central to the show, acting as both a heartthrob and, at times, a villain. But it's when the show first begins that Chuck commits two acts of sexual assault—and like much of the secrets contained in the series, it was glossed over, forgotten just as another rumor surfaced.
In the show's pilot episode—yes, the very first episode—Chuck attempts forcing two different characters into sexual activities with him. After we find Serena van der Woodsen in an act of self-defense, shouting and physically attacking Chuck so that he will leave her alone and stop trying to kiss her, Chuck goes on to violate another female character. Later in the same episode, he tries to force himself onto Jenny Humphrey, a 14-year-old freshman. As Chuck kisses Jenny, it becomes clear that she is uncomfortable. And while Jenny resists, Chuck later offers her champagne and tries to kiss her again.  In both scenes, the characters said no, and Chuck continued pressuring them. Serena manages to free herself, while Jenny's brother Dan comes to her rescue—finding her after she texts him asking for help.
Although Chuck was caught, his actions are never rightfully addressed. In fact, he goes on to become the other half of a storied romance with Blair Waldorf.
A planned reboot of the show shouldn't be allowed to continue past that scene without seeking justice for the women Chuck abused—or it shouldn't even include those scenes in the first place. In the time of Me Too, with a renewed call for men to be held accountable for allegations of sexual misconduct, Gossip Girl's opening storyline is unacceptable. And if a reboot were to happen, the show's creators would be forced to rethink or reimagine the show's debut episode. One even wonders how the character's misdeeds managed to become such a casual, forgotten piece of the show the first time around. Chuck's actions were irredeemable, but he somehow became a poster boy for the series and the target of frequent adoration from viewers crushing on his character.
Additionally, there are moments throughout Gossip Girl when Chuck is misogynistic and straight up terrible. From playing frequent mind games with romantic interests on the series to using Blair as a physical object he can trade to secure a hotel from his uncle, Chuck is "supposed" to be seen as this careless playboy. His actions are often flippantly referred to as part of his character, with Blair saying, "No one likes to be on the ground floor of a scandal like Chuck Bass," and "Chuck likes to brag about his conquests, not his victims." But it's impossible to ignore that the way he treats other characters, particularly women, on the show is disgusting. His actions and words aren't worthy of lusting after, crushing on, or praising.
There's nothing wrong with feeling nostalgic for the pop culture moments that defined previous generations, Reboots have become commonplace—this year alone has featured returns from Roswell and Charmed.
But if we're to demand more from the men we interact with in real life, then we should demand the same of the entertainment we consume.
There's no telling whether a Gossip Girl reboot will ever come to fruition, but, as the discussions begin and fans look back, it's worth considering whether one of the show's main characters is worthy of a return, too. And if he is, maybe it's time that Gossip Girl finally created a Chuck who is actually worthy of our support.