Antoni Porowski Thinks Queer Eye Has "Work to Do" When it Comes to Diversity
"When you show these peoples' stories, they're no longer concepts, and you learn that they're actually individuals," he tells HelloGiggles.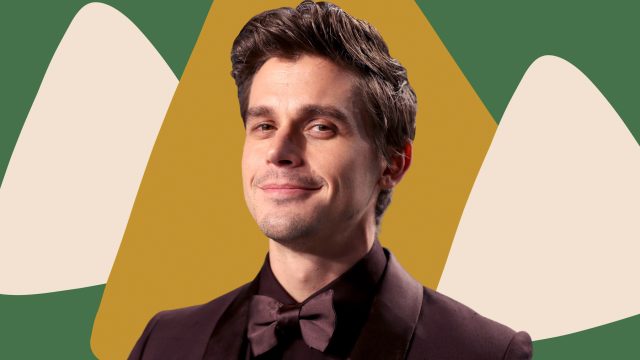 Take one look at Queer Eye's Fab Five, and you'll instantly see diversity: Members of the cast include a British Pakistani, Polish Canadian, and Black American, while identifications range from gay to sexually fluid to non-binary. And just like the hosts of the hit Netflix show (who are first-time Emmy nominees for Outstanding Hosts this year, BTW), the "heroes" whom the Fab Five mentor each episode have spanned a wide range of labels in regards to race, age, sexuality, class, and more. But despite that representation, the show's Food and Wine Expert Antoni Porowski believes Queer Eye still has room to grow as an inclusive space.
"Whenever we do resume filming Queer Eye, I really hope—now more than ever—I know we pride ourselves on really focusing on and putting a spotlight on diversity, but we still have so much work to do," Porowski says, speaking to HelloGiggles over the phone in August.
Out of five seasons and 47 episodes of Queer Eye, only one hero has been transgender, for instance. During Season 2, the Fab Five met Skyler Jay, a trans man recovering from his top surgery and working on changing his legal identity to reflect his true gender. When Porowski reflects on that episode, for which he and Tan France received criticism over their lack of knowledge on the trans experience (although Skyler has defended them since), he admits that he was not well-educated on the community at the time.
"Tan [France] and I were vocal about being a little embarrassed about how we were rather ignorant," Porowski remembers. "We hadn't had that much exposure to the trans community and individuals. We were so lucky because Skyler is such an open book and so comfortable talking about literally anything. I went in and I was like, 'Hey, so, I'm super curious. I want to learn as much as I can so I can figure out how to actually help you. If I offend you at any point, please let me know.' And he was just a gem about it."
It's stories like Skyler's that Porowski wants to continue highlighting on Queer Eye when the show returns for Season 6, which they began filming pre-pandemic. The star credits series like Ryan Murphy's Pose (which he binge-watched during quarantine) for showcasing diverse narratives that aren't often shared onscreen—and he says he thinks Queer Eye should glean inspiration from their representation.
"I'm learning a lot about the power of visibility—when you show these peoples' stories, they're no longer concepts, and you learn that they're actually individuals."

Antoni Porowski
Porowski says he turns to his fellow Fab Five members for guidance on educating himself on a variety of topics, such as Grooming Expert Jonathan Van Ness, who's extremely involved in causes like voting rights, Black Lives Matter, and HIV awareness. "I'm really lucky that my castmates are pretty big activists, so I'm constantly creeping their stories, going to their pages, and trying to learn as much as I can," Porowski explains.
As quarantine continues, Porowski is using his days to educate himself on social issues and make an impact (he's working with organizations like the ACLU, The Trevor Project, and GLSEN) while still taking time for himself. Along with watching shows like Pose (and not feeling "weirdly guilty" about vegging out like he says he did pre-quarantine), the cook reveals he's "really leaned into having a routine" during the pandemic. As someone who was thrown into the spotlight two years ago—and hasn't really had the chance to come up for air since—Porowski says the change of pace that came with the pandemic was hard to adjust to initially. "I realized very quickly that I didn't want to be bored, because if I'm bored, I kind of get depressed," he explains. "So, I created a daily regimen."
That regimen opens with the 36-year-old taking "all my little supplements that make me feel good about myself", working out "to get it out of the way", and meditating using one of two apps: Headspace or The Honest Guys (which he says reminds him of Queer Eye Culture Expert Karamo Brown, because it promotes the benefits of positive affirmations—a practice Brown often teaches heroes).
"Some days, I wake up in a really good mood and I'm hopeful, and other days I wake up and I feel like everything just seems kind of meaningless," Porowski admits. "But if I work out, I'm at least gonna be 10% happier, and that's a good start."
The main thing that's been keeping him sane during isolation, though, is the dog he started fostering while quarantining in Austin, Texas with his boyfriend, Kevin Harrington. "She somehow snuck her way back into New York with us," Porowski says of Neon, a pit bull-beagle mix. "I've been working on training her and it's been an exercise in patience. She's terrified of street noise and all the clanging and construction even though she's a big 45-pound dog. So, I've been teaching her positive reinforcement and taking her on late night walks."
Porowski says he's focusing on giving Neon the best life he can without just giving her treats all the time, although, he jokes that he "definitely fattened her up rather quickly". He notes that channeling his energy into caring for someone other than himself has actually had a positive impact on his own well-being.
"When I'm taking care of something or someone else, I always feel better because it gets me out of my own head," he explains. "When I'm in my own head, that's when I tend to get into trouble and I catastrophize and I have to pick up a second therapy session for the week instead of my usual one day a week."
Another way Porowski has avoided boredom during quarantine? By making the drastic decision to shave his head, which came as a shock to his 4.5 million Instagram followers (and likely hair guru Van Ness, too). But the star tells me he'd been contemplating reaching for the buzzer for a long time, and one day he decided, "You know what? Fuck it. Just do it."
Of course, cooking has also been a staple in Porowski's day-to-day quarantine experience—and he's relishing the extra time he's been able to spend in the kitchen. Aside from his self-made Instagram series Quar-Eye: Cooking Lessons in Quarantine, the author of the cookbook Antoni in the Kitchen has been exercising his creative chef juices by making recipes for the upcoming Kentucky Derby, which is taking place on Labor Day weekend. Although he was raised in Canada, Porowski recalls the Kentucky Derby as one of the first American events he was introduced to while living on a "really douchey, pretentious resort" in West Virginia at age 10. He remembers his mom dressing in a bright outfit complete with a hat and eating hot browns (which he calls "freaking amazing") at the clubhouse while watching the race.
"I was really drawn to people coming together," Porowski reflects. "This year, more than ever, anything that's an excuse to have fun and celebrate, I gravitate towards."
In celebration of Derby Day, he created three dishes, one cocktail, and one mocktail recipe—and his passion for food is obvious as he uses phrases like "a shit ton of pepper" and "refreshing on a hot ass summer day" to describe various recipes. For inspiration, he "nerded out" and dug into the history behind the Derby, learning about Rosie Napravnik, the most successful female jockey to compete in the typically male-dominated event. The chef named his mocktail after Napravnik, explaining his decision by saying, "Any opportunity to showcase diversity, I tend to jump on."
Whether it's with cooking or his thoughts on TV representation, Porowski isn't afraid to make his opinions known—and to try to enforce real change while he's at it.