10 of the Best Anti-Frizz Products for Every Hair Type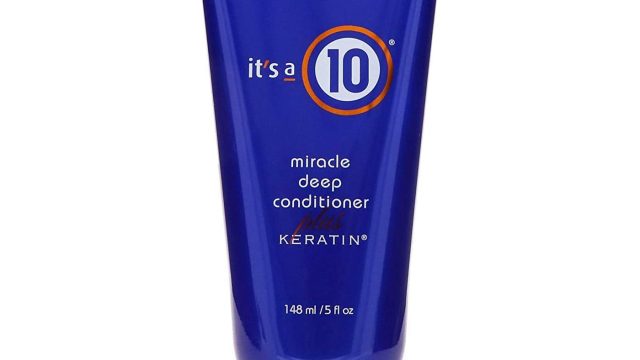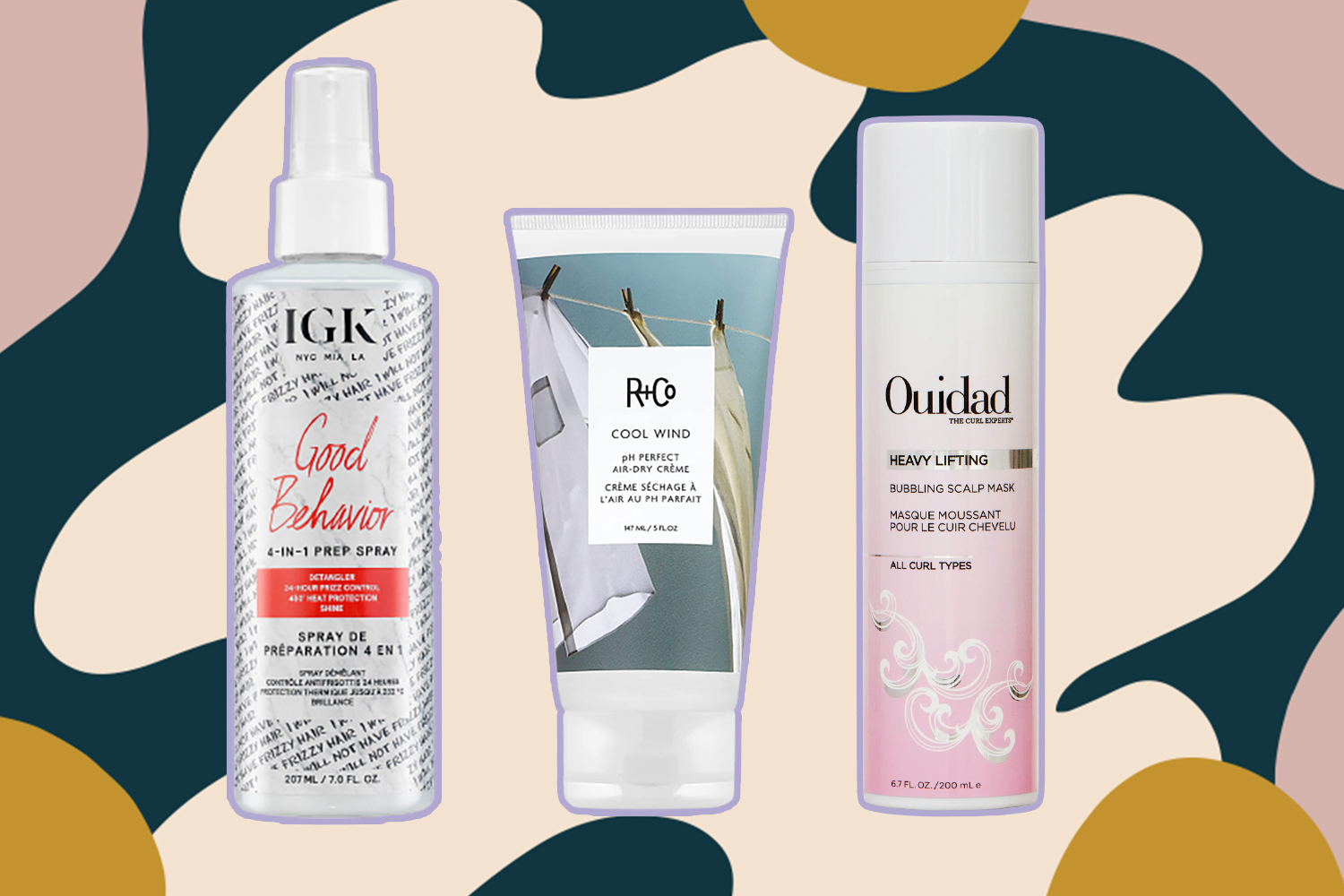 Like blackheads and ingrown hairs, most of us deal with frizz from time to time. Even the best blowouts can be prone to occasional flyaways atop the head, but thankfully, frizz can be managed and prevented. Enter: anti-frizz products to the rescue. But before you grab all the serums and sprays you can get your hands on, let's get the root of the issue (pun intended). Below, we dive into what causes frizz, how to prevent it, and of course, which frizz control products we should add to our beauty essentials drawer, stat.
What causes frizz?
While nearly everyone will experience some form of frizz in their life, some of us are at higher risk than others. According to co-founder of IGK Hair Care Aaron Grenia, "curly and textured hair types often have more frizz compared to straight hair, as these hair types are innately dryer due to their follicle shape—meaning that it's more difficult for the scalp's natural oils to travel down the hair shaft. Plus, highly-processed and damaged, color-treated hair can also experience more frizz than normal if not properly cared for."
Aside from these common culprits, three other factors often weigh into frizzy hair, too.
Overwashing: "Like your skin, your strands have a protective barrier that helps shield it from natural elements," celebrity hairstylist Irinel de Leon explains. "Aggressive cleaners strip the strands of this protective barrier and can lead to dryness, breakage, and frizz."
Dryness: "Hair that's thirsty will absorb whatever moisture it can find in the air," de Leon explains. "This is the reason why hair tends to get frizzy in humid weather." 
Damage (heat, UV rays, friction, aggressive brushing): "Ensuring you're prepping your hair with a good leave-in conditioner with UV ray protectant will help prevent damage," de Leon advises.
What's the best way to prevent frizz?
When it comes to kicking frizz to the curb, Grenia says one thing is key: hydration. Use hydrating shampoos and conditioners to moisturize your hair—but don't overdo it and strip your hair of its natural oils. "Using the proper products based on your hair's texture, in addition to your typical styling routine, is critical—especially if [the] hair is highly processed or often exposed to heat," Grenia explains. "Since friction and over-manipulation can contribute to frizz, it's important to be gentle when drying and styling hair."
Below, de Leon breaks down three frizz control methods.
"Use hair masks for hydration at least once a month or every two weeks," she recommends.
"Not using hot tools so often will make a significant improvement in the dryness of your strands. Heat styling causes damage to the strands, making them brittle and dry which leads to breakage and frizz."
"Ditching the terry cloth towel and using a microfiber one will make a difference," de Leon says. "Although it works well on our skin, terry cloth is way too drying on the strands. Microfiber towels absorb the water in the hair without drying it out."
Best anti-frizz products:
Best anti-frizz shampoo and conditioner: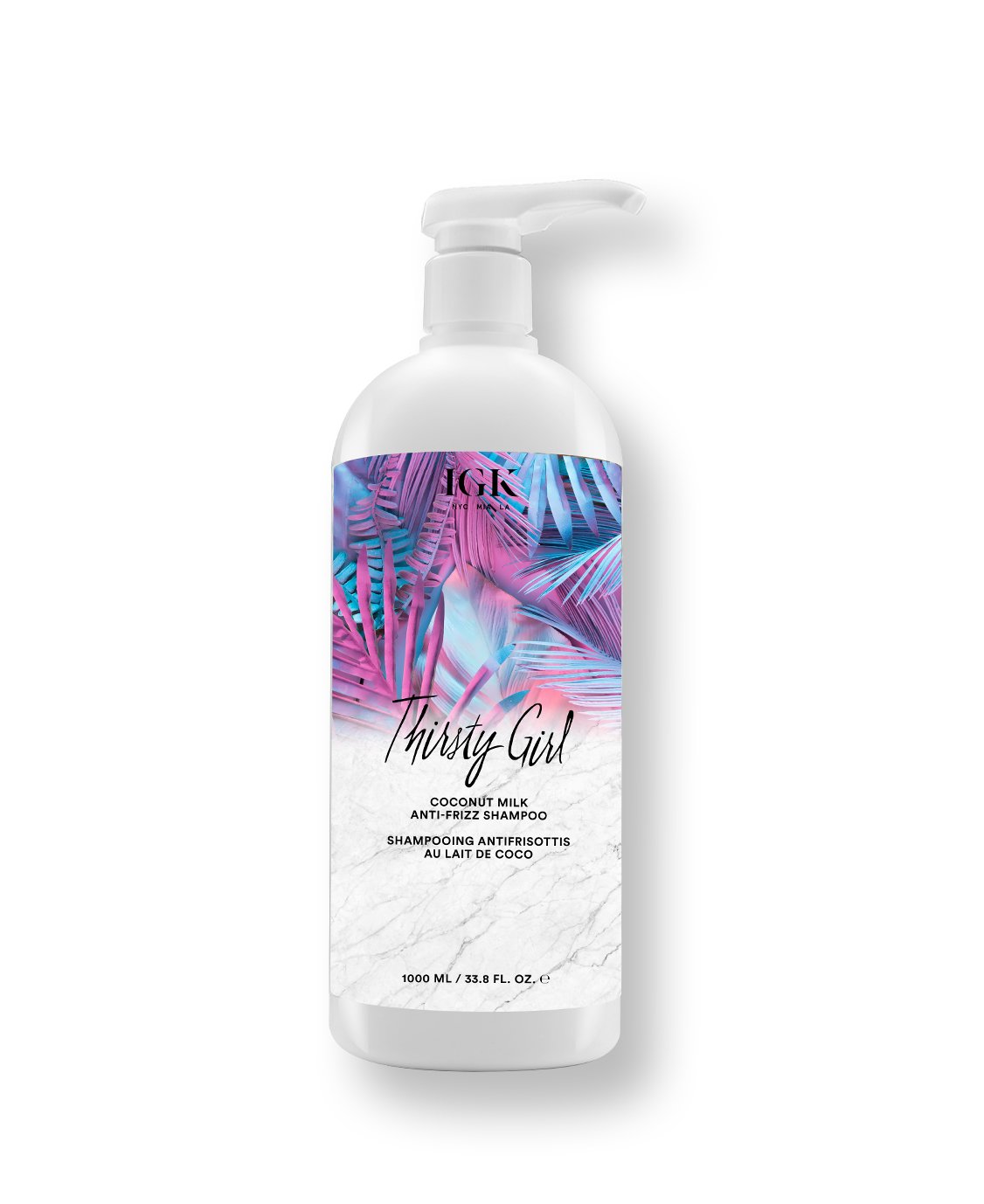 IGK Thirsty Girl Coconut Milk Anti-Frizz Shampoo
$27
Shop it
Ulta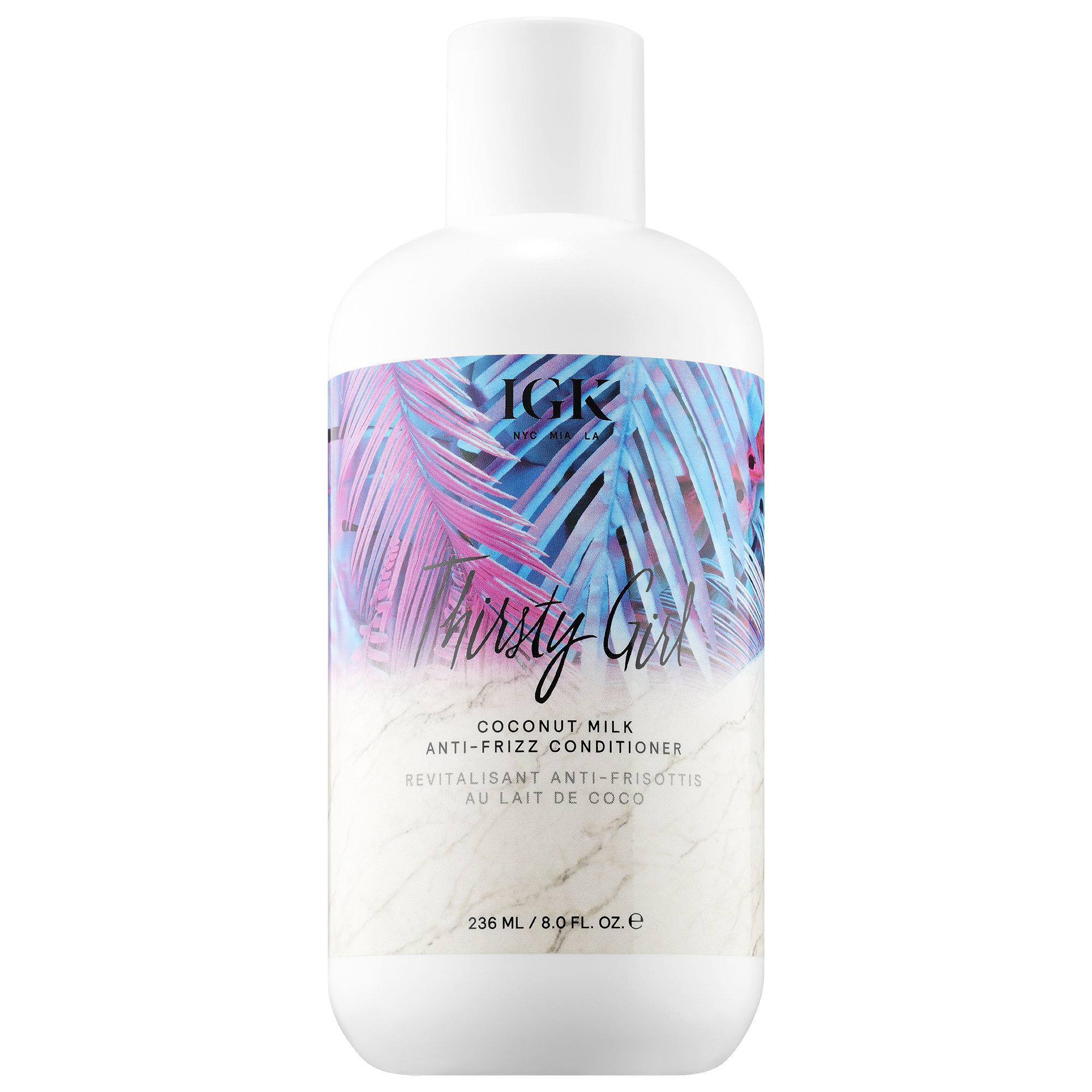 IGK Thirsty Girl Coconut Milk Anti-Frizz Conditioner
$27
Shop it
Ulta
"Thirsty Girl Anti-Frizz Shampoo and Conditioner feature patented hyaluronic acid technology plus nourishing coconut milk that gently cleanses and moisturizes hair leaving it softer, smoother, and frizz-free without weighing it down," Grenia explains.
Best anti-frizz leave-in products: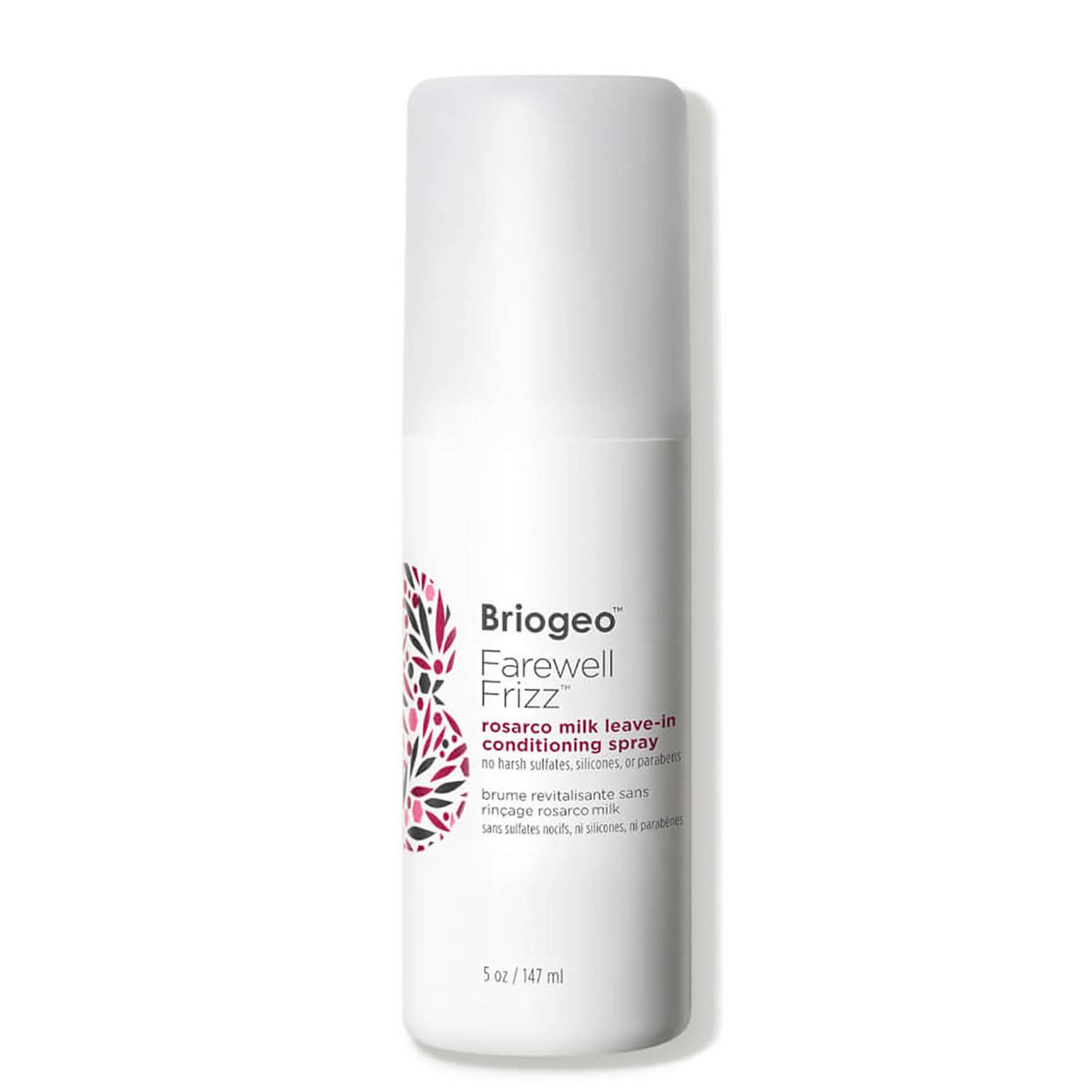 Briogeo Farewell Frizz Rosarco Milk Leave-In Conditioning Spray
$24
Shop it
Dermstore
Say "farewell" to frizz with this leave-in conditioner spray from Briogeo. This lightweight anti-frizz spray is formulated with coconut oil which seals in moisture, rosehip oil which protects hair from damage, argan oil which provides conditioning, and vitamin E which prevents breakage. Spray onto wet hair directly after washing in the shower for smooth, shiny hair.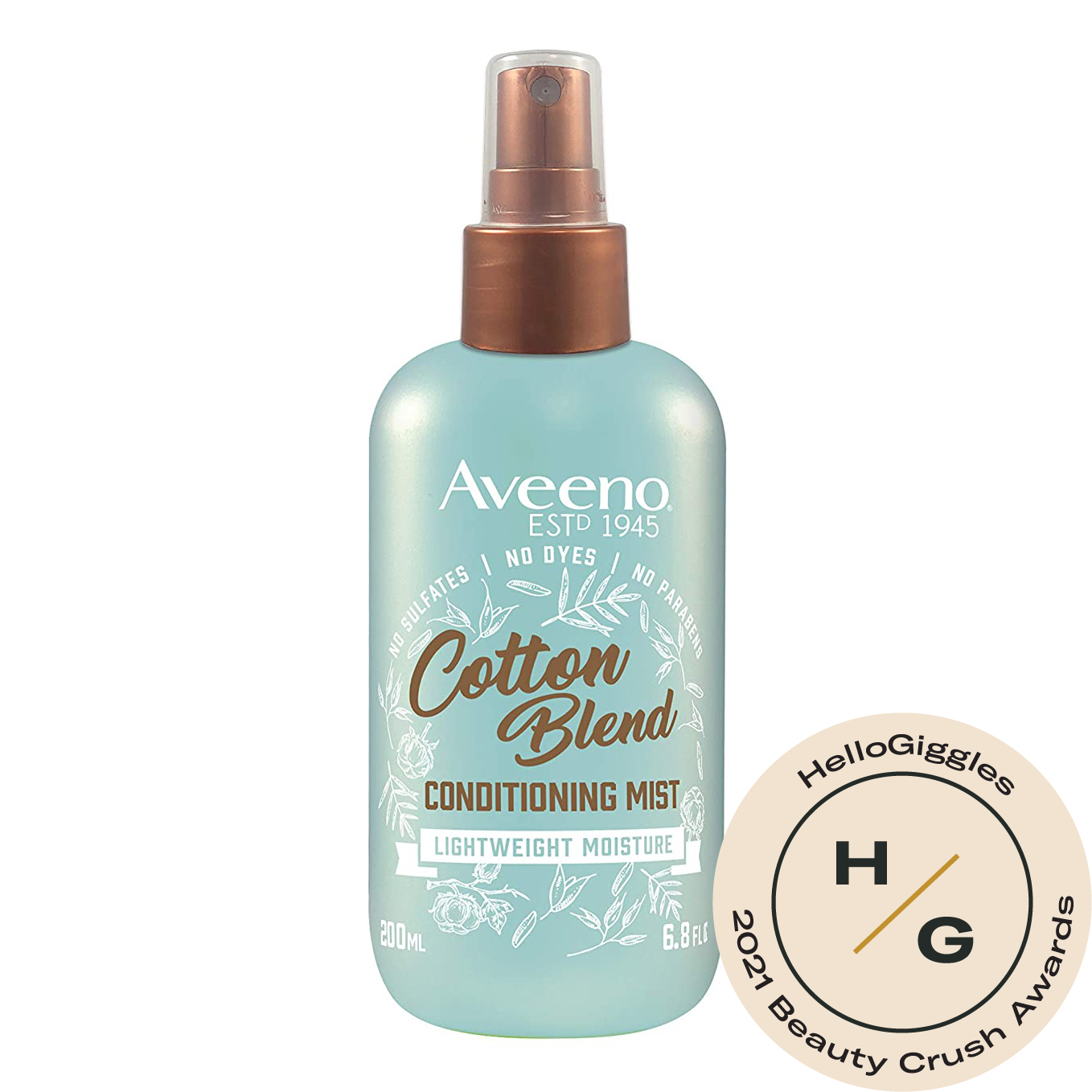 Aveeno Cotton Blend Conditioning Mist
Shop it
Amazon
This Beauty Crush Award-winner won us over for its effective cotton fibers and conditioning agents that increase softness and smooth the cuticle. For best results, mist on damp strands and let air dry for a frizz-free and natural-hair-don't-care look, or bust out your hot tools (it doubles as a heat protectant!) for an ultra-sleek style.
Best anti-frizz sprays: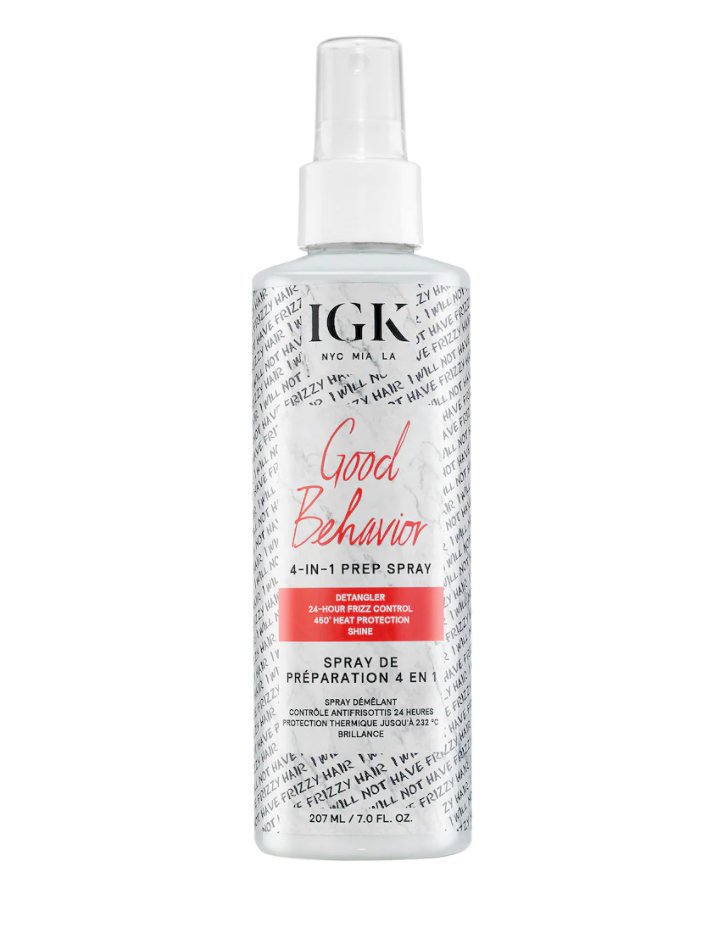 Good Behavior 4-in-1 Prep Spray
$27
Shop it
Sephora
"Good Behavior 4-in-1 Prep Spray is the perfect primer for any hair texture because it gently detangles to glide through hair with ease while feeling nourishing without adding heaviness," Grenia explains. "It also contains heat protection and 24-hour frizz control, so you can either air dry or heat style and still achieve a smooth, shiny result."
Ceremonia Guava Rescue Spray
Shop it
CREDO
Detangle and protect your hair from UV rays with this nourishing spray. Guava acts as the hair's natural SPF in this formula while the butterfly ginger and avocado shield hair from blue light and hot tools. We love that this Latinx-owned beauty product also contains coconut oil, hydrating glycerin, moisturizing squalane to keep hair healthy and bouncy.
Ouidad Advanced Climate Control Detangling Heat Spray
$24
Shop it
Ulta
Tackle both frizz and tangles with one product: This anti-frizz spray from Ouidad. Made with plant and nut oils, this anti-frizz product moisturizes, conditions, and protects hair from damage while calming frizz and reducing tangles all at once.
Best anti-frizz creams: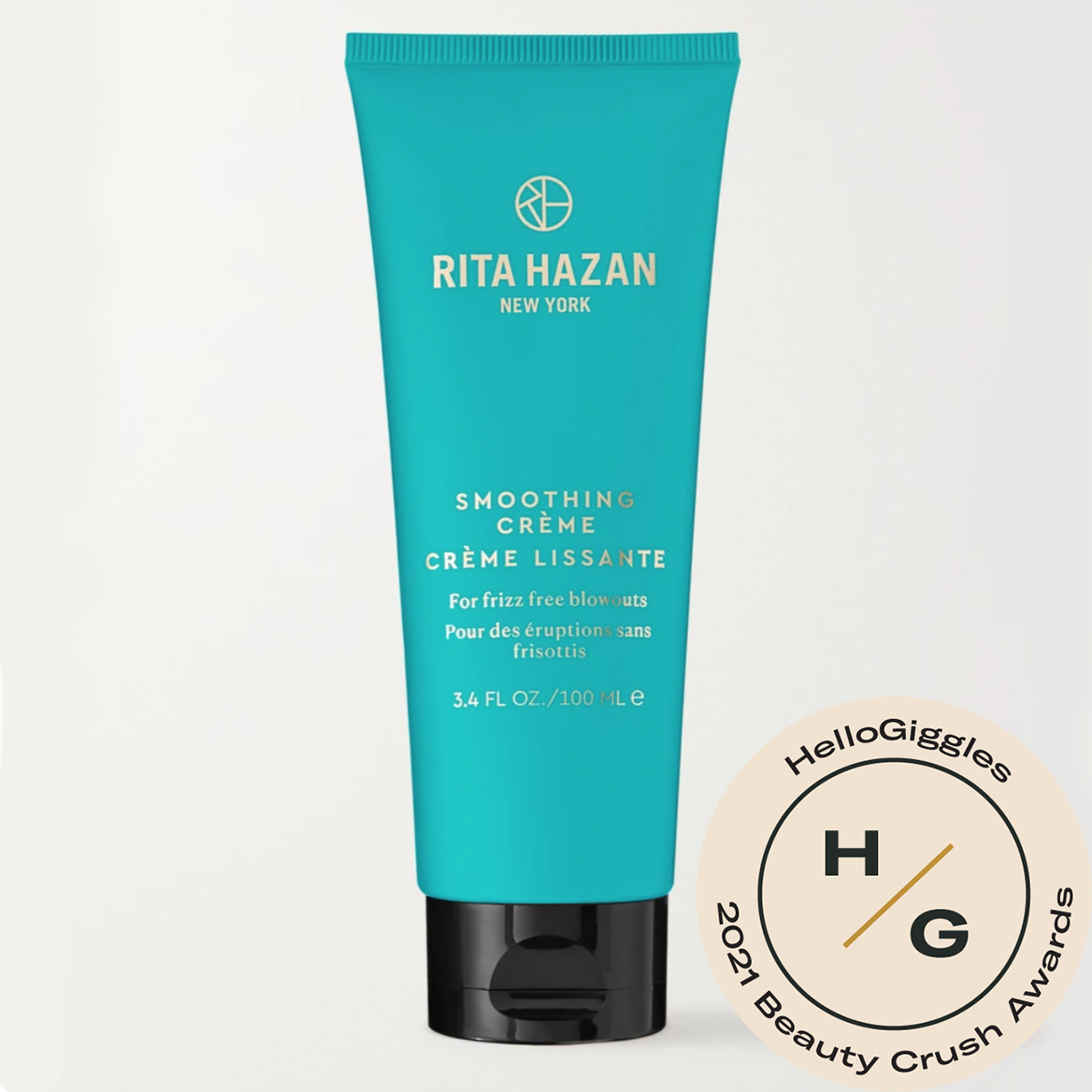 Rita Hazan Smoothing Crème
Shop it
Net-A-Porter
Treat yourself to a shiny, salon-quality blowout at home with this award-winning product. It's formulated with a protein complex to strengthen the hair and eliminate frizz, while lightweight silicones smooth and seal the hair cuticles. Plus, the product includes UV absorbers to protect hair from sun damage.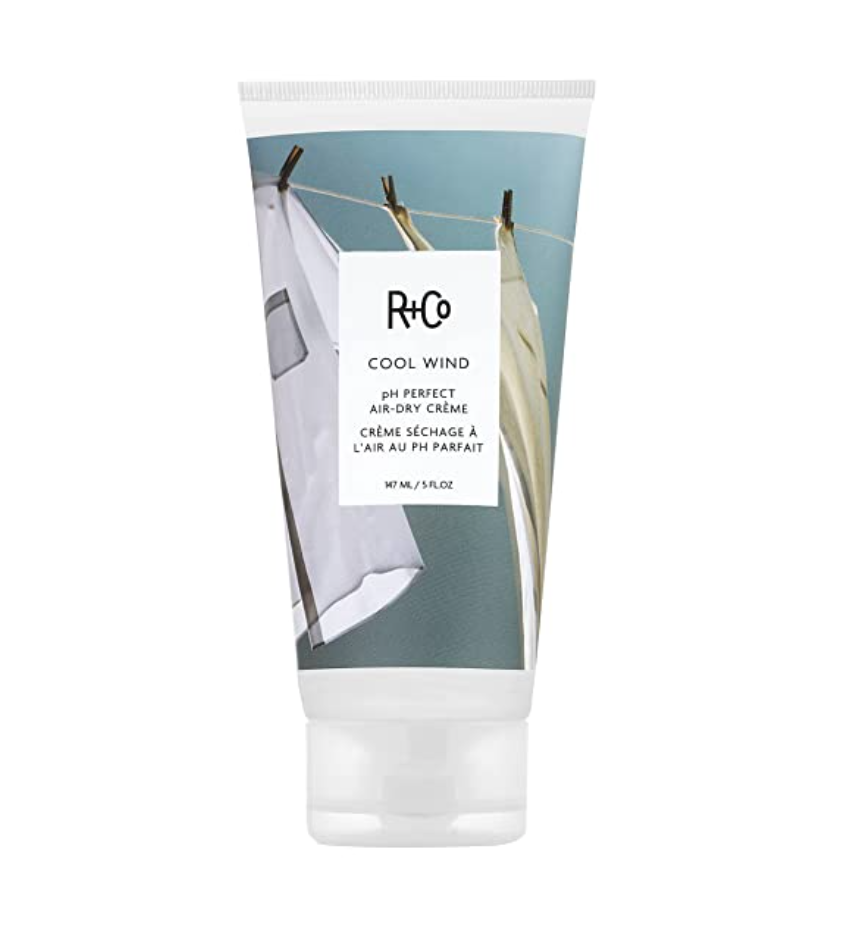 R+Co COOL WIND pH Perfect Air Dry Crème
Shop it
Amazon
No blow dryer? No problem. This air-drying cream not only hydrates and softens hair, but it offers lightweight moisture and shine while taming frizzy flyaways, too.
Best anti-frizz hair masks:
It's A 10 Miracle Deep Conditioner plus Keratin
Shop it
Amazon
Moisture is the name of the game when it comes to an anti-frizz regimen, and this formula achieves that. It uses keratin amino acids to strengthen brittle hair, sunflower seed oil to protect color-fading and brassiness, aloe vera to seal in moisture, and other botanicals to make hair soft, shiny, and frizz-free.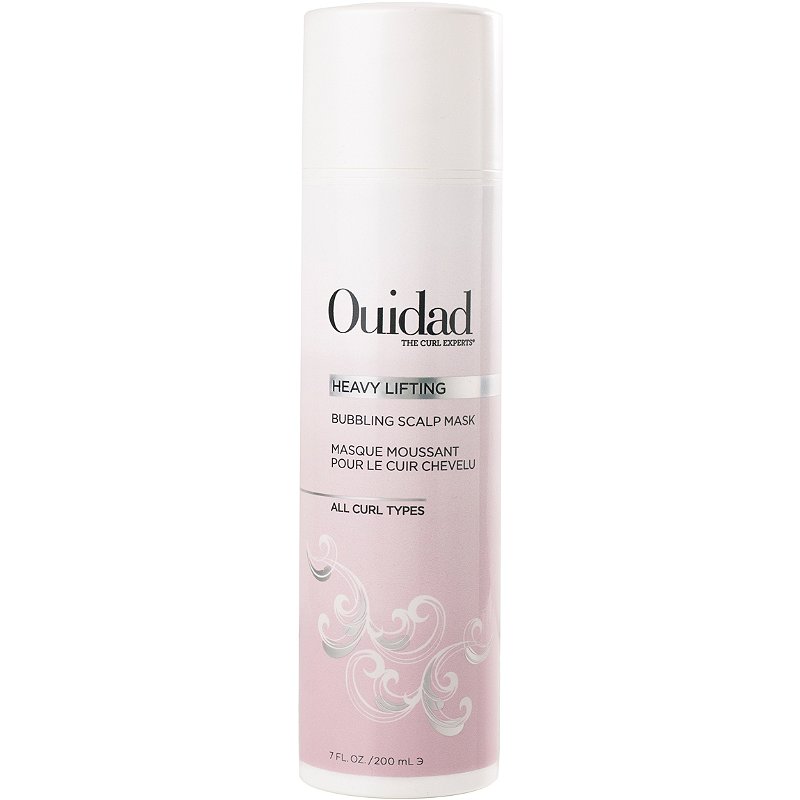 Ouidad Heavy Lifting Bubbling Scalp Mask
$39
Shop it
Ulta
"My favorite cleanser for a deep and detoxifying cleanse is the Ouidad Heavy Lifting Bubbling Scalp Mask," de Leon says. It's important to keep your scalp free of buildup to maintain your natural curl pattern, voluminous (not frizzy) roots, and prevent excess product and grime buildup to dry out your hair. Apart from doing that, this mask is also formulated with hydrating hyaluronic acid and nourishing vitamin E to keep hair moisturized and strong.
Best anti-frizz serums: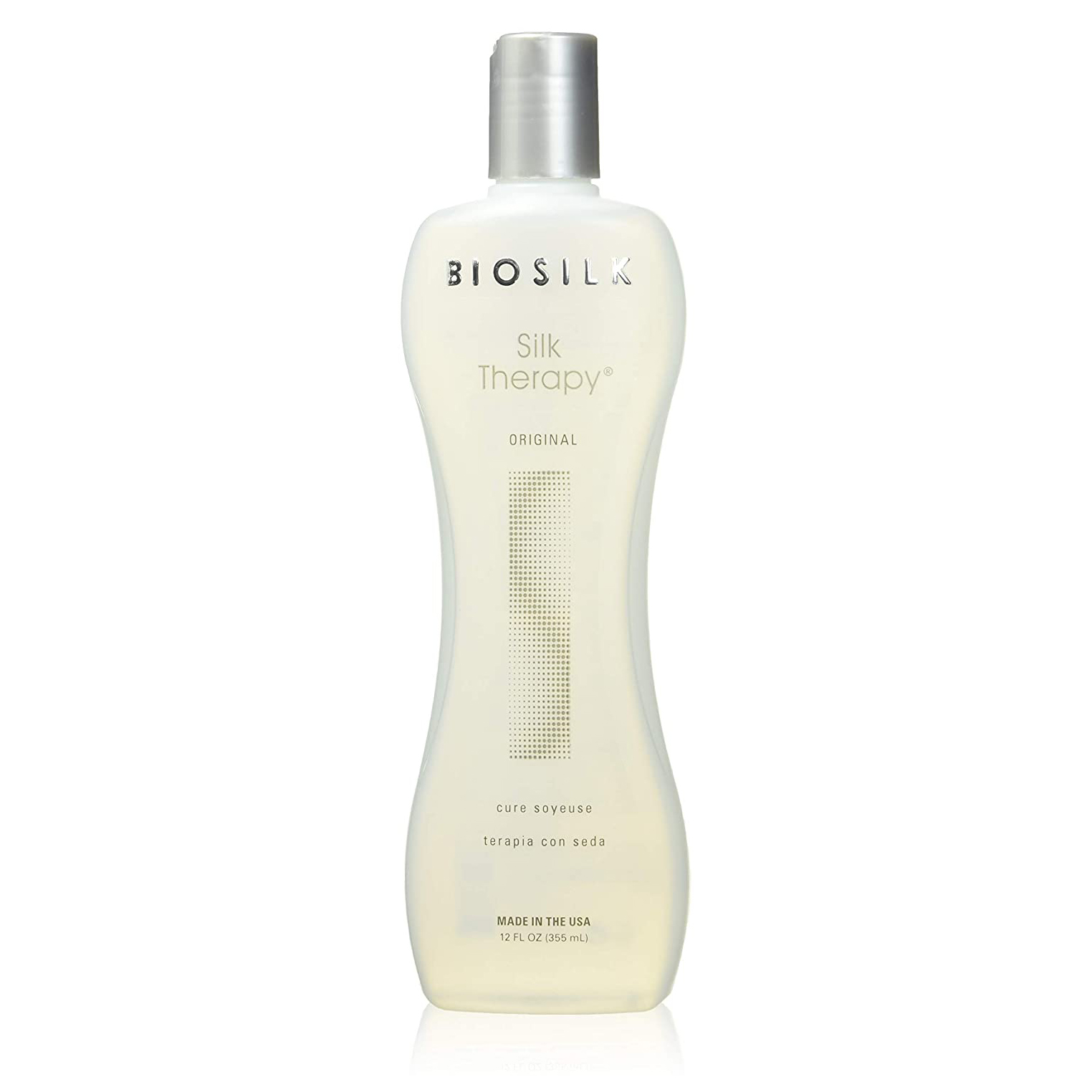 BIOSILK Silk Therapy
Shop it
Amazon
Suitable for all hair types, this shine-inducing serum works to prevent frizz by filling voids in your hair's cuticles to create the appearance of smoother hair. Its weightless formula also makes hair feel softer, look shinier, and with time, makes it healthier.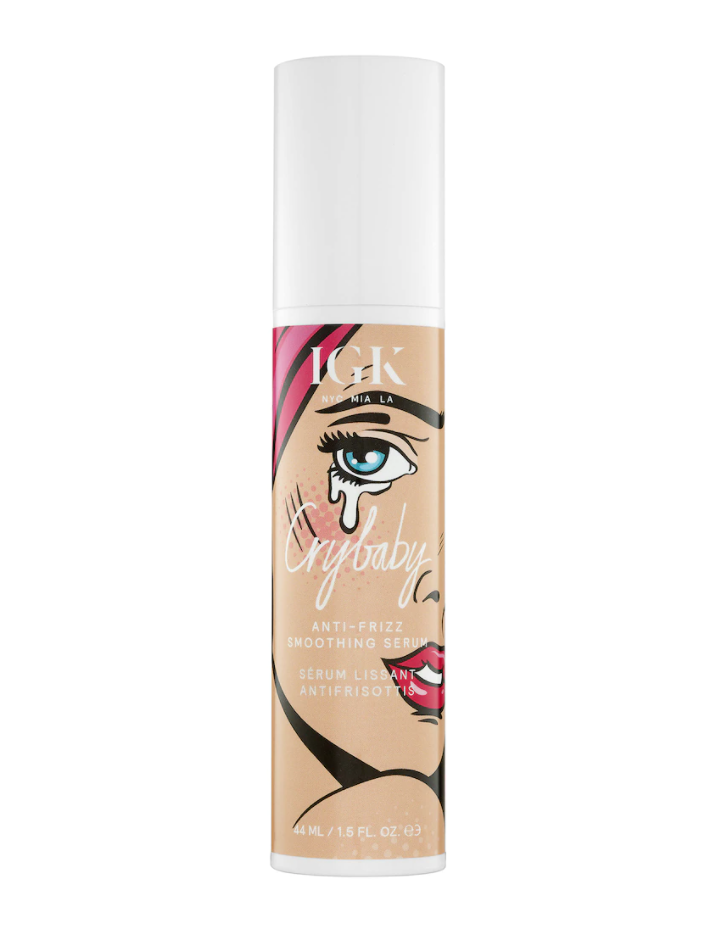 IGK Crybaby Anti-Frizz Smoothing Serum
$28
Shop it
Sephora
"Crybaby Anti-Frizz Smoothing Serum is a lightweight serum that is the perfect smoothing finisher for any style," Grenia says. "It contains coconut oil, which is known to help seal in moisture. This formula also can help control frizz for up to 72 hours, which is perfect for creating looks with longevity."