The anti-feminist theme you never noticed in your favorite Christmas movies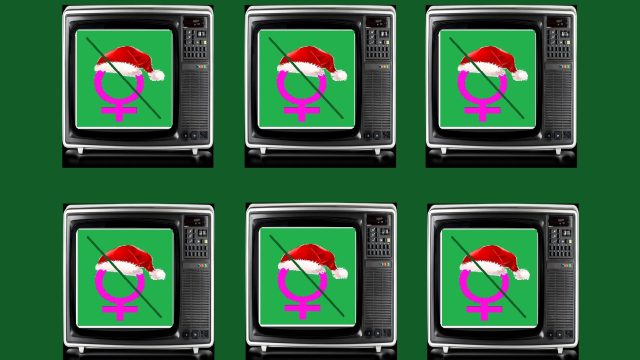 This time of year is super cute. Families chomp on puppy chow, decorate Christmas trees, blast "All I Want For Christmas Is You," and of course, they watch their favorite Christmas movies. Christmas films come in many different forms. There are more mature, reflective movies like A Christmas Carol. There aresilly ones, like Home Alone, that make us cackle during their entire duration. And of course, there are crowd favorites such as Rudolph the Red-Nosed Reindeer. These movies are undeniably ingrained in the minds of people everywhere. They are pieces of the American Christmas puzzle.
However, there's a recurring theme in these films that will break your feminist heart. There are no femme leads.
The fantastic nature of film aside, you simply cannot have Christmas without women. We are here in real-time, creating and taking part in traditions — yet why have we been erased from the films that represent this time of year?
Bitch Flicks proposes that women aren't often stars of Christmas movies because men are the central figures of the season. Santa Claus and Jesus are the entities the season is closely affiliated with. Though, in the of words throwback feminist and former first lady Abigail Adams: "Remember the ladies." Claus has a significant other, Mrs. Claus, who is just as integral to spreading holiday cheer as her partner. Similarly, Jesus came directly from a woman.
Without women, these important icons would either not exist (in people's minds) or would operate less efficiently.
Where are the Christmas films with leading ladies?
We've discussed representation in media. We know how necessary it is that young girls see reflections of themselves. There are decades-old films showing that a world in which women have diminished roles is acceptable. Many people regard these films as classics and the movies air frequently during holiday months. They are essentially saying that a world where women are silent, or even unseen, is imaginable.
This will not do.
In an anecdote on the lack of holiday-centric femme protagonists, the blogger behind Reel Girl details one of her experiences. She states that while watching Polar Express, she came to the shocking conclusion that there was only *one* female character. Imagine that — a film that has come to symbolize the power of hope could have stripped away one's hope for a future of equality. She came to a similar realization about Rudolph. She made two valid points in the process. One is that the female characters had no lines. The other is that the only female reindeer was, physically, less capable than her male counterparts.
Honestly, this lack of femme representation runs deeper than Christmas flicks.
We are still seeing that women are being seriously underrepresented in film. In fact, a 2016 study conducted by USC (which looked at 100 of the top fictional films) showed that there was an "average [of] 2.3 male characters for every woman." So not only is it difficult to find movies with female leads in general, you also have to deal with the struggle of finding a femme-friendly holiday movie to satisfy your inner feminist.
There are two ways that this underrepresentation of women in holiday movies can be handled. One is making an effort to ensure you and your loved ones are supporting the inclusive movies that have been made. (Don't worry — we'll be sharing some in a second!) This will ensure that you, your friends, and your family are receiving the gift of equal representation as you fully enjoy this time of year. The second solution is all our creative film-making queens (please Ava DuVernay, we need you) making movies that show smart, vocal, and capable women adding flare to the most wonderful time of the year.
Reel Girl, Legendary Megan, and Makers all have lists that highlight holiday films with female leads.
Happy Holidays!