Anthony Bourdain has died from a confirmed suicide, and so many people—including Asia Argento— are sharing their sadness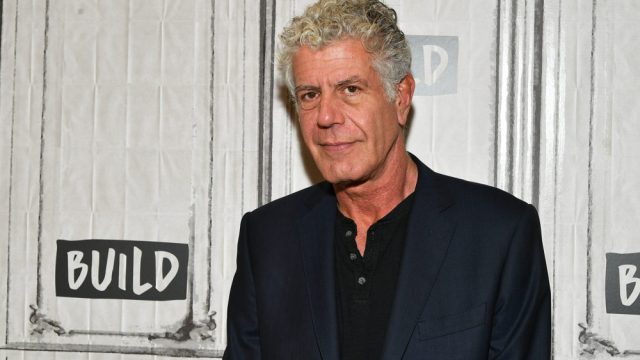 In tragic news, we've just learned that iconic host and travel writer Anthony Bourdain has died at the age of 61 of a confirmed suicide.
In a Friday, June 8th, statement, CNN wrote:
"It is with extraordinary sadness we can confirm the death of our friend and colleague, Anthony Bourdain. His love of great adventure, new friends, fine food and drink and the remarkable stories of the world made him a unique storyteller. His talents never ceased to amaze us and we will miss him very much. Our thoughts and prayers are with his daughter and family at this incredibly difficult time."
CNN reports that Bourdain was in France at the time of his death filming an episode of Parts Unknown, and was discovered unresponsive in his hotel room by friend and fellow chef Eric Ripert.
Bourdain was father to an 11-year-old daughter, Ariane, from his second marriage to Ottavia Busia, and was dating Italian actress and activist Asia Argento at the time of his death. He authored the best-selling book Kitchen Confidential: Adventures in the Culinary Underbelly, won two Emmys, and was the recipient of the prestigious Peabody Award.
Argento posted her official statement about his death earlier today. false
Anthony Bourdain's Instagram account was active as early as several days ago, with the food critic posting behind-the-scene updates from Parts Unknown.
He was also an active voice and ally within the #MeToo movement, especially after partner Argento accused Harvey Weinstein of raping her at the 1997 Cannes Film Festival. After she came forward in October 2017, Bourdain tweeted, "I am proud and honored to know you. You just did the hardest thing in the world. Can we use the word 'rapist' now? #Weinstein."
Many have already taken to social media to share their grief.
Many can't help but note that, much like with the recent and tragic passing of designer Kate Spade, Bourdain's death highlights that mental illness does not discriminate and can affect anyone. A June 7th study from the CDC stated that suicide rates have increased by 25% since 1999 — an alarming statistic, to say the least.
https://twitter.com/udfredirect/status/1005083078904242176
If anything can be gleaned from the world's loss of Anthony Bourdain, it's that we must talk about mental health and we must ensure that help is available to every person who needs it. If you or anyone you know are contemplating suicide, you can reach out to the National Suicide Prevention Lifeline, day or night, at 1-800-273-8255.