The internet can't get over how badass Evangeline Lilly is in the new Ant-Man and the Wasp trailer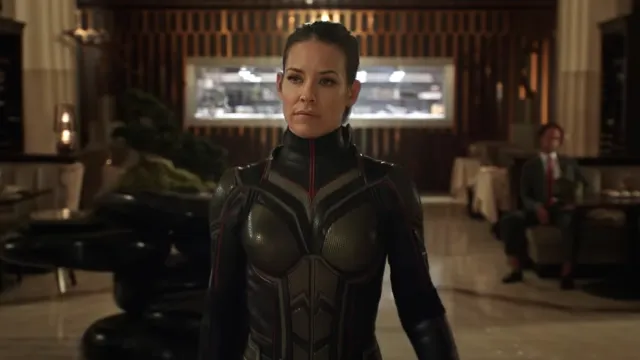 Warning: Minor spoilers for Avenger: Infinity War ahead.
It's safe to say that's been a tough, emotionally fraught week for Marvel fans. But while millions are still recovering from the devastating gut-punch of Avengers: Infinity War, Marvel is attempting to ease the pain, dropping the official trailer for Ant-Man and the Wasp.
Does this mean we finally have an answer as to where Ant-Man and the Wasp were during Infinity War? No…but we finally get to see Evangeline Lilly's Hope van Dyne in action as the Wasp, and it's as magical as it sounds. During the Ant-Man end credits, Hope's dad, Hank Pym (Michael Douglas), finally reveals a new prototype for the Wasp costume. It's safe to say Wasp (and Hope as the Wasp) lives up to our expectations, and then some.
In the Ant-Man and the Wasp trailer, Scott Lang, aka Ant-Man (Paul Rudd), is struggling to balance his dual life as a superhero and dad trying to turn his life around following the events of Captain America: Civil War. But as superhero life is never quiet for long, Pym bursts back into his life needing help. It seems Pym opened up the Quantum Realm, prompting a mysterious ghost-like criminal — aptly named Ghost (Hannah John-Kamen) — to steal his advanced technology…and the only people who can save the day are Ant-Man and the Wasp.
We are so ready for this:
https://www.youtube.com/watch?v=UUkn-enk2RU?feature=oembed
Wasp is clearly running the show, and we are so here for it!
While, unfortunately, Michelle Pfeiffer's Janet, aka the OG Wasp, doesn't appear in the trailer, fans were thrilled to see Hope — and Evangeline Lilly — make her spectacular debut in the Wasp persona.
Naturally, Twitter can't get over Wasp completely stealing the trailer:
false
false
https://twitter.com/udfredirect/status/991343366112673799
The trailer doesn't exactly do much to answer the much-asked question of where Ant-Man and the Wasp were during Infinity War — there's no clear indication where it takes place in the MCU timeline after Captain America: Civil War — surely leaving fans with more questions. But after the emotional wringer of epic proportions Infinity War put us through, pushing pause on Thanos and the impending doom of the Avengers to make a quick return to lighter Marvel offerings seems like a prime idea.
Ant-Man and the Wasp also stars Michael Peña, Tip "T.I." Harris, Bobby Cannavale, Walton Goggins, Judy Greer, and Laurence Fishburne. The film is set to hit theaters on July 6th.