We just got another look at Tyra Banks hosting "America's Got Talent"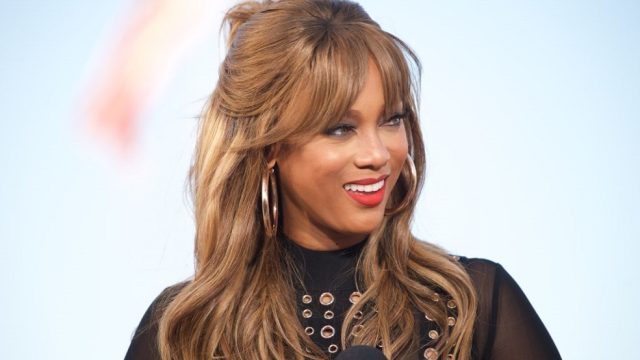 When we first heard that Tyra Banks will be hosting America's Got Talent, we were a little confused. We mean, we're used to her judging models, so this was a big step forward. (Have no fear, she'll be doing that too. Ms. Banks is quite a busy lady.) Thankfully, a new promo just came out to help us see what Banks will look like on the set of a totally different, yet still iconic, program.
It's safe to say that we think she'll bring a ton of life to America's Got Talent — not like we had any doubt. The competitive reality show, which is about to dive into its 12th season, will have brand new acts set to win the cash prize. One of those acts? A chicken that can play piano.
Watch Banks shine, alongside the judges that'll be returning this year:
https://www.youtube.com/watch?v=D3ayV0WT6Q0?feature=oembed
We can't wait to see Banks interact with the likes of Simon Cowell, Mel B, Heidi Klum and Howie Mandel. In true Tyra Banks fashion, she asked her mom about the opportunity first.
"She's like, call Mr. Cowell and tell him yes, yes, and yes," Banks joked.
Speaking of Cowell, he's got nothing but good things to say about working with the host and judge of America's Next Top Model.
"Tyra is funny, comfortable, honest..." Cowell said. "If it works out, I take all the credit. And if it doesn't, it's other people's fault."
 The new season is set to premiere tonight, May 30th. We honestly can't wait.