Yet another couple got engaged onstage with Adele, but this time the singer had no idea the proposal was coming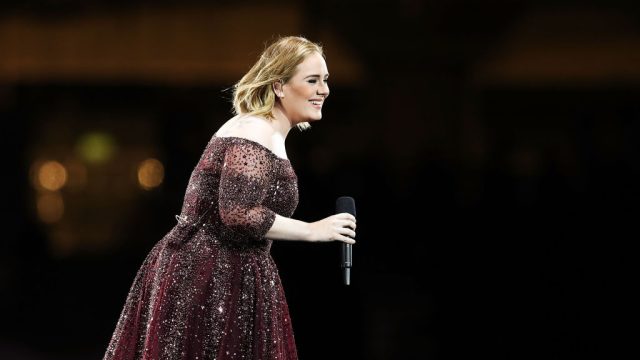 She may be best known for singing about heartbreak, but that doesn't stop couples from getting engaged at Adele concerts — over and over and over. It happened most recently at a show in Melbourne, Australia, this weekend, and this time the proposal was a doozy.
The singer called on two men, Chris and Wade, to come up on stage with her, as she often does. Usually she puts cards under fans' seats to let them know they've been ~chosen~, but she forgot this time, and had noticed Chris crying when she sang "Hello." We feel you, bro. Anyway, she brought the two guys onstage — and Chris suddenly got down on one knee to propose!
Wade obviously said yes (though Adele made him repeat his answer for the crowd just to make sure). And she was just as surprised as Wade likely was.
"That wasn't planned, I had no idea," she said. How adorable! We love, love, love that Chris made a lucky situation even better.
Proposals have become something of a trend at Adele shows. In 2016, two men in Denmark were called up onstage for an engagement, too. At that concert, Adele made a proposal of her own. She joked to the guys, "Should I be your surrogate if you have children? I'd love to have a baby with someone Swedish." false
At another concert in London she saw a couple get engaged in the crowd, and she actually STOPPED mid-song to call them out. "Come up here you two. Are they coming? Did you just get engaged? Oh god! I thought there was a fight at first," she said.
In Zurich, she helped a gay couple get engaged, and yet another same-sex couple got engaged at her show in Barcelona. Basically, she's the best. And she's all about celebrating love in all forms.
In Los Angeles, two men who were called up onstage invited her to their wedding. Adele was all about it. "My tour should be over by then, yeah, so I'll come," she responded. She even said she'd sing a song for free at their fete. The concert was last August, so there's still time for her to make good on that promise.
So for all the lovebirds out there, be prepared when your beau says they nabbed Adele tickets. You could be next.