Anne Hathaway instagrammed a picture of her son for the first time!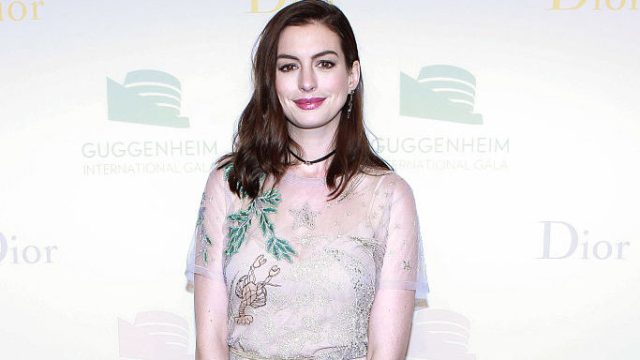 It's been almost an entire year since Anne Hathaway gave birth to her son Jonathan Rosebanks Shulman. She has never shared a picture of her little man…until now! Finally, just shy of his first birthday, Hathaway shared the very first public photo of her son, and it's perfect in every way. (OKAY, technically we can't see his face. But it doesn't even matter, because he's so tiny and adorable!)
Hathaway snapped a picture of Jonathan as he pulled himself up on an ottoman to watch his mom deliver a speech at the United Nations in full support of paid parental leave.
"JRS watching Mommy give her speech at the UN yesterday #forourboys #forourgirls #forthefuture #loveislove #parentsareparents #paidparental #iwd #ppl @unwomen," Hathaway captioned the pic.
In the speech given on International Women's Day, the Oscar winner and goodwill ambassador for the United Nations called on companies and countries throughout the world to offer paid parental leave. The United States currently offers 12 weeks of unpaid parental leave (depending on what company you work for), and that didn't sit well with Hathaway when she gave birth to her son.
"Somehow we and every American parent were expected to be back to normal in under three months without income, she said in her speech.
She also emphasized the importance of including men in parental leave.
"[We need to] redefine and destigmatize men's roles as caregivers," she added. "In other words, in order to liberate women, we need to liberate men … Why do we continue to undervalue fathers and overburden mothers? … In the modern world, some families have two daddies. How does maternity leave serve them?"
Check out her incredible speech:
We can only imagine how proud Jonathan will be of his mom as he grows up. Hathaway and husband Adam Shulman will be celebrating their son's first birthday on March 24th. Happy early birthday, Jonathan!