Anne Hathaway roasted her 2011 Oscars hosting gig so hard ahead of this year's show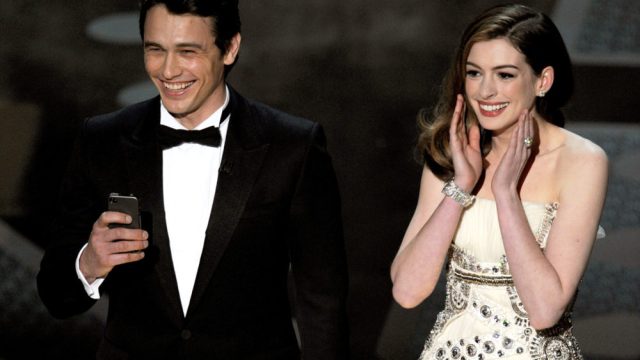 If you tune into the Oscars every year, there's a solid chance you'll remember 2011—the year when Anne Hathaway and James Franco co-hosted the annual awards show…to, um, mixed reviews. While we never try to rehash old drama, let's just say the general consensus was: James Franco phoned it in while Anne Hathaway tried (hard) to keep it all together. Franco later revealed that the stars "made up" after the incident, and eventually both actors moved on from the awkward gig to participate in other, more successful projects.
Which is why we're loving the fact that Hathaway brought the whole debacle up again…herself.
Hours before the February 24th 2019 Oscars, Hathaway took to Instagram with the following post:
"No matter what happens with today's show, just remember, it's already been worse. Happy Oscars!"
LOL. Solid self-burn, girl! For context, the 2019 Oscars will officially run without a host…for the first time since the 1989 show (which is widely considered to have been a disaster). The Academy opted to go sans host this year after comedian Kevin Hart stepped down over controversy involving past homophobic tweets. The plan is for a slew of different celebrities to participate in this year's show, and many of us are admittedly curious about how it will all play out.
Only time will tell on this one. But thank you for the laughs, lady.