Anne Hathaway got very real about parenting while speaking at the United Nations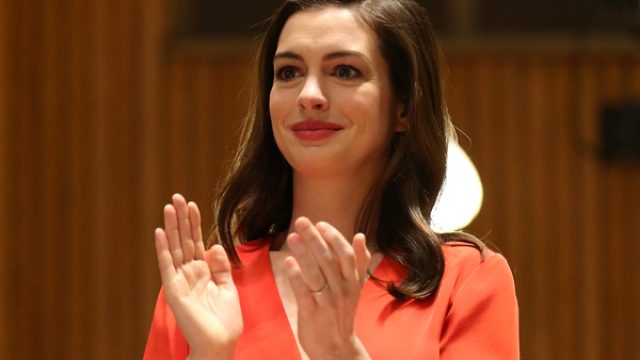 Well, this is definitely something every woman — and man — should hear. Actress Anne Hathaway got real about parenting in her United Nations speech, and you need to listen.
On Wednesday, Hathaway, who is a goodwill ambassador for UN Women, gave a speech at the United Nations. She addressed the group on International Women's Day and spoke about the importance of paid parental leave. The entire speech was heartfelt, personal, and very eye-opening.
In March 2016, the Ocean's Eight actress became a first-time mother. Throughout her speech, she looked to her own experiences and gave shocking statistics.
Yes, you should be taking notes.
"I remember the indescribable — and as I understand it universal — experience of holding my week-old son and feeling my priorities change on a cellular level," Hathaway said about having her first child. "I remembered I experienced a shift in consciousness that gave me the ability to maintain my love of career and also cherish something else, someone else, so much, much more."
She then explained how becoming a parent is something that hits everyone involved differently, but also the same. Your life changes, and so do your responsibilities.
"Like so many parents, I wondered how I was going to balance my work with my new role as a parent," she continued. "And in that moment I remember that the statistic for US's policy on maternity leave flashed in my mind. American women are currently entitled to twelve weeks unpaid leave. American men are entitled to nothing."
While some people might be aware of this issue, many are not.
Hathaway then discussed how unpaid leave hit her differently once she was a mother.
"That information landed differently for me when one week after my son's birth, I could barely walk. That information landed differently when I was getting to know a human who was completely dependent on my husband and I for everything," the actress said.
"When I was dependent on my husband for most things, and when we were relearning everything we thought we knew about our family and our relationship, it landed differently."
This personal story hits home for SO many women and men who have to jump back into work way before they are prepared to do so.
"Somehow, we and every American parent were expected to be back to normal in under three months. Without income?" she asked before continuing.
"I remember thinking to myself, if the practical reality of pregnancy is another mouth to feed in your home, and America is a country where most people are living paycheck to paycheck, how does twelve weeks unpaid leave economically work?"
Here's the truth…it doesn't.
"The truth is, for too many people it doesn't. One in four American women go back to work two weeks after giving birth, because they can't afford to take off any more time than that. That's 25 percent of American women," Hathaway revealed.
The 34-year-old actress then went into more statistics, the motherhood penalty (yes, this exists), and more. Hathaway gave a real-life example of her own mother's inability to work in order to take care of her and her siblings.
"The deeper into the issue of paid parental leave I go, the clearer I see the connection between persisting barriers to women's full equality and empowerment, and the need to redefine and in some cases, destigmatize men's role as caregivers," she continued. "In other words, to liberate women, we need to liberate men."
Preach, Anne, preach!
To hear (or read) her speech in its entirety, click here.