Anne Hathaway and Mandy Moore just planned a Princess Diaries reunion, and we're fangirling hard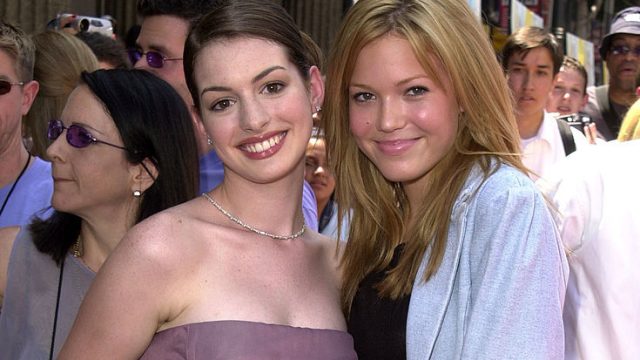 While Anne Hathaway's Mia and Mandy Moore's Lana may not have been friends in The Princess Diaries, the two real-life pals are spurring rumors of a long desired reunion. And we are totally here for it.
On August 23rd, just in time for Throwback Thursday (and the 17th anniversary of The Princess Diaries), Moore posted a photo of the two stars at the premiere of the movie in 2001. The pic shows Moore and Hathaway sporting their finest early aughts apparel. The This Is Us star—who recently dyed her hair blonde, Lana style—poked fun at her own denim suit.
"I guess this film came out just over 17 years ago??" Moore wrote in her caption. "@annehathaway was already a movie star and I showed up to my first premiere in a casual denim suit. Hey, it was 2001!"
We think you looked amazing, Mandy. Anne too.
Much to our delight, Hathaway saw the picture and weighed in, showering her former co-star with love.
"That's the face I make when I'm trying to not flop sweat on a terrifically famous pop star," Hathaway commented, ET Online reports. "So happy for all that you have going on!"
Lucky for us, the conversation didn't stop there. Hathway continued: "Let's get together and throw ice cream at each other soon."
In case you forgot, Hathaway is referencing the iconic scene in which a fed up Mia smears her ice cream cone all over Lana's cheerleading uniform. All together now: Lana got coned!
https://www.youtube.com/watch?v=2b0CbxzTLqA?feature=oembed
But is it possible that we could finally get a third Princess Diaries movie or a reunion? We can only hope.
Moore concluded the precious Intsagram interaction by writing, "Hello friend! Count me in. It'd be an honor to be coned by you again!"
Aww. Fingers crossed that a Princess Diaries reunion actually happens—and that someone takes pics.