Rebel Wilson's lady-powered "Dirty Rotten Scoundrels" remake has a great new name — and Anne Hathaway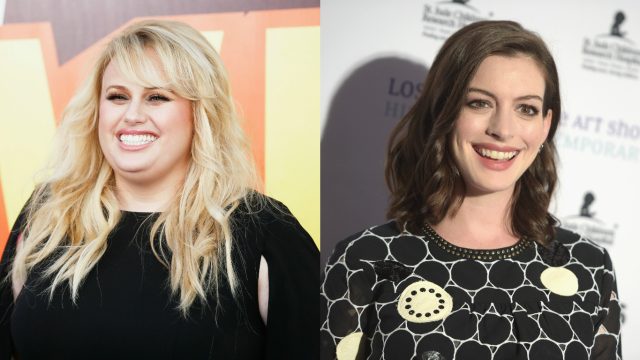 Why just sign on for one all-ladies movie reboot when you can sign up for TWO? And why sign on for just one all-ladies heist movie, when you can sign up for TWO??
That must have been what Anne Hathaway was thinking when the script for the remake of the 1988 Michael Caine and Steve Martin movie (and Broadway musical), Dirty Rotten Scoundrels, crossed her path. Why NOT join the cast? She's already got the all-ladies Ocean's 11 under her belt, and why not add another. The more the merrier, right?
Well, it looks like Anne and co-star Rebel Wilson are going to be very merry, very soon. According to The Hollywood Reporter, Anne is very close to singing onto the film. It's also got a great new title, too. Gone is just "The All-Ladies Dirty Rotten Scoundrel Remake," in is Nasty Women.
That is perfectly fitting, and oh-so-timely.
Not too much is known about the script for Nasty Woman, but Hollywood Reporter has a lil' description to hold us over for now:
The new take on the 1988 comedy will feature two women from different walks of life teaming up to con a tech prodigy out of his money.
We're into this. Also, this is a great time to throw out there that both Rebel and Anne can belt it out, and Dirty Rotten Scoundrels became a musical in 2004. We're not saying that Rebel and Anne should start singing at any point during the movie but…they totally should. https://www.youtube.com/watch?v=WVprOTtvj4k?t=1m35s
While we're already eagerly anticipating this movie, it is still a looooooooong ways away. Currently, there is no set script for the movie, let alone anyone else attached to it besides Rebel and Anne. Oh, also no director. But all those things will fall into place in due time, and we'll be right her waiting to watch it happen.
Rebel and Anne, two swindling con-artists who may or may not sing? We'll wait forever to watch that happen.