Anna Kendrick totally believes that her 'Pitch Perfect' character is most likely a lesbian
There's so much to love about Pitch Perfect. Our beloved Bellas are such an iconic group of characters, and the movie's many memorable moments are all, well, aca-mazing. Now, we've gotten some news that could make us adore Pitch Perfect 3 even more: Anna Kendrick's Pitch Perfect character could be a lesbian, and we're so here for it.
Now, we know what you're probably thinking – Twitter rockstar Kendrick's character Beca had a (male) love interest (played by Skylar Astin) in the first movie, who appeared in the second movie as her boyfriend as well. Well, when the Pitch Perfect fandom speaks, Kendrick listens, because she's heard all about the #Bechloe 'shippers out there – and she's definitely into that pairing.
In an interview with The Advocate, Kendrick discussed her new memoir, her acting career, and how she's become an accidental LGBT icon. When asked which actor she'd choose to play her love interest if she ever played another lesbian character (after her first, Fritzi, in her 2003 breakout role Camp), she immediately set Bechloe fans' hearts aflutter.
"There's a specific fandom that ships Beca and Chloe, my and Brittany Snow's characters from Pitch Perfect, so I feel like it would be a real betrayal to not choose Brittany. I mean, our characters are pretty much in a lesbian relationship. As far as we're concerned, they're secretly in love."
Um… Yep, we totally buy that. Easily.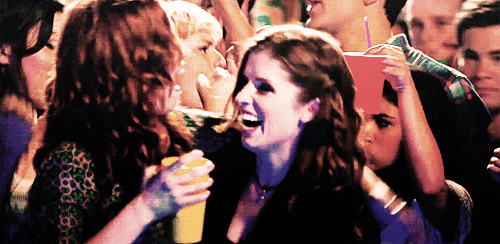 Kendrick even admitted that they'd played up the flirtiness in the movie's sequel Pitch Perfect 2 because they knew the fans enjoyed it.
"If people didn't think it was cute, we wouldn't have pushed that chemistry even further in Pitch Perfect 2. The more we have fun with it, the more people seem to like it."
Their chemistry even earned them a Teen Choice Award, so she's definitely not wrong about that!
Kendrick took it a step further, saying that she and Snow had joked about there being "all-out passionate lovemaking in the third movie" between their two characters – except for the fact that they still "need that PG-13 rating." LOL.
Raunchy sex scene or no, we'd be totally into Beca and Chloe getting together in the third movie! Chemistry like that is a shame to waste, after all.