Anna Kendrick pushed back on the note to dress "sexier" in "Pitch Perfect 3"
One of the best things about the Pitch Perfect franchise is that it stars a bunch of women whose sex appeal is irrelevant. Unfortunately, Anna Kendrick revealed that during wardrobe fittings, the stars would get notes wondering if their outfits should be "sexier."
"It's funny — whenever we do the wardrobe fittings I feel like we get notes from the top saying they should be tighter and sexier and show more skin," Kendrick told Harper's Bazaar. "And I'm like, that's not why people are coming to see the movie. They definitely aren't showing up because of our sex appeal. It's nice that audiences are interested in seeing a movie of misfits and girls of different shapes and sizes."
I am writing this article as the #1 Pitch Perfect fan. I have already bought my tickets for the opening night showing, and I can tell you I am very uninterested in the cast's outfits and would also probably feel weird if any of them wore "sexier" clothes. Also, anyone who experienced collegiate a capella can tell you that a capella is THE dorkiest thing you can do. This is literally the appeal of the movie — a ragtag group of girls with a passion for a very dorky hobby who triumph at it. Okay, rant over.
Despite Kendrick's defiance at the wardobe notes, it does appear that the Bellas' outfits are…different than the first film.
The Bellas in the first Pitch Perfect:
The Bellas in Pitch Perfect 3: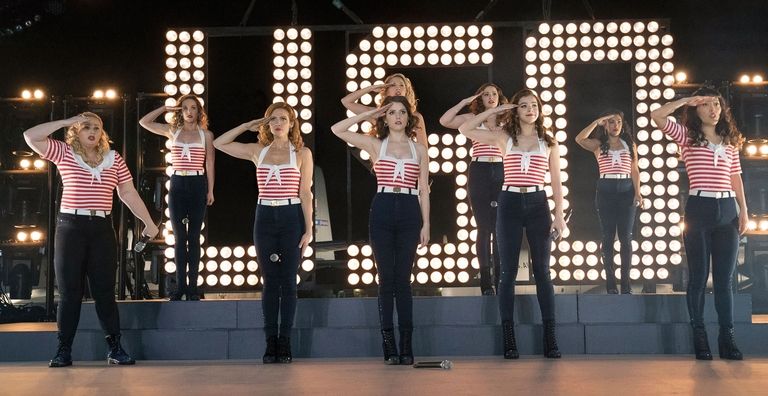 We're not saying that these new outfits have made them into sex objects — they look cute, but we can't ignore this change in wardrobe.
We love that Kendrick wielded her power in Hollywood to put her foot down for something she believed in both creatively and as a feminist.