Even Anna Kendrick was jealous of Maisie Williams and Sophie Turner's friendship at the Golden Globes
The Pitch Perfect star has joined the Maisie and Sophie fan club! Seriously, now even Anna Kendrick is jealous of Maisie Williams and Sophie Turner's friendship. That makes two of us, girl.
On Sunday, the two Game of Thrones actresses arrived at the Golden Globe Awards together and walked the red carpet one right after another.
While this is normal for the two best friends, who plays sisters on the HBO series, this time there was a little snag on the carpet. When Williams' train got tangled, her on-screen big sis, and real-life bestie stepped up to help.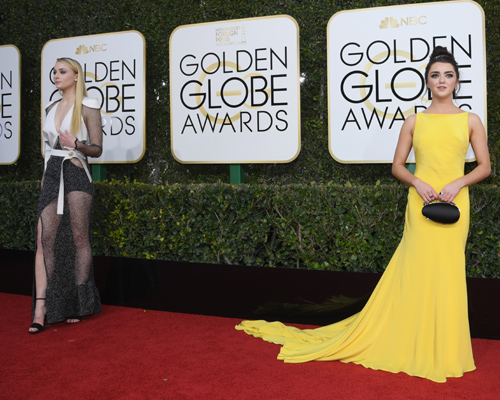 Turner stopped to pose for her own pictures and went to Williams' aid and fixed the gorgeous yellow dress. What are sisters for if it's not to pick up the other's dress and keep them moving at an award show?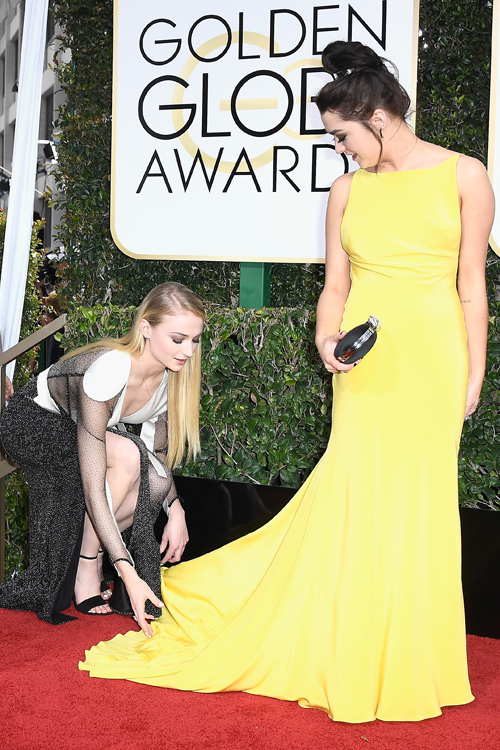 Seriously, could these two be any cuter?
While we've been fans of these two friends for many years, after seeing this sweet gesture at the Golden Globes, the Pitch Perfect 3 star is now totally obsessed with them, too — and for good reason.
"Sophie was carrying Maisie's train down the red carpet and when they introduced themselves to me I made them let me take a photo because my heart couldn't take how bananas cute it was. #GoT 💔💔💔💔💔💔💔💔💔," Kendrick captioned a picture of the BFFs.
Yes, Kendrick did say it was "bananas cute," and now we want to use this phrase any, and every, time we see Williams and Turner together.
This snap of the two British actresses together, might be our favorite moment from this year's Golden Globes.
Too bad there isn't a picture of The Accountant actress with her new favorite best friends. That would then be the perfect Globes moment!