We're in love with Anna Kendrick and Justin Timberlake's super-sweet cover of "True Colors"
Last weekend, we got the STELLAR news that Justin Timberlake is working on a new album (and it may be. . . country?!). And we were pretty surprised, because Anna Kendrick and Justin Timberlake have been hard at work on the upcoming movie, "Trolls," which hitting theaters in November. But it turns out that even though these two have been crazy busy, they had time yesterday afternoon at the Cannes Film Festival to give us the most lovely acoustic cover of Cyndi Lauper's "True Colors." And yeah, it was as great as you'd expect.
The original song is already very emotional, but Anna and Justin put an even sweeter and more calming twist on the song, with Justin strumming on his acoustic guitar as the two of them shared the stage.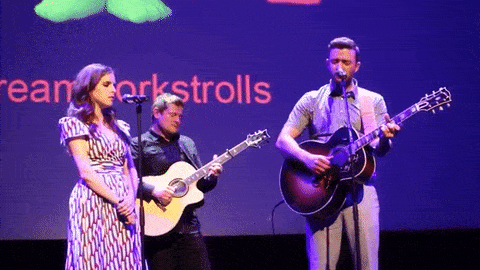 But Anna and Justin weren't only at the festival to give us this beaut of a cover. They were also there for the footage screening of Trolls — a first for the festival, since it's the first time the venue has held a festival-approved screening, Rolling Stone notes. And this "True Colors" cover is making us even more excited for the movie. After all, if Anna Kendrick and Justin Timberlake are together, how could it *possibly* go wrong?
Check out the full cover below and be prepared to have it stuck in your head for the rest of the day (which is *not* a bad thing, because it's so darn calming). https://www.youtube.com/watch?v=