Anna Kendrick just made this totally snarky "how to ruin a wedding" video
We love just about everything that comes out of Anna Kendrick's mouth. She's hilarious, relatable, and relentlessly real. So, we're not surprised that we love Anna's latest Instagram video which jokingly offers some helpful hints on how to ruin a wedding. Lolol. Wedding season is coming, so listen up.
She starts off with a song recommendation: "Do your Beyoncé cover. You have a great voice, and you look just like her from certain angles."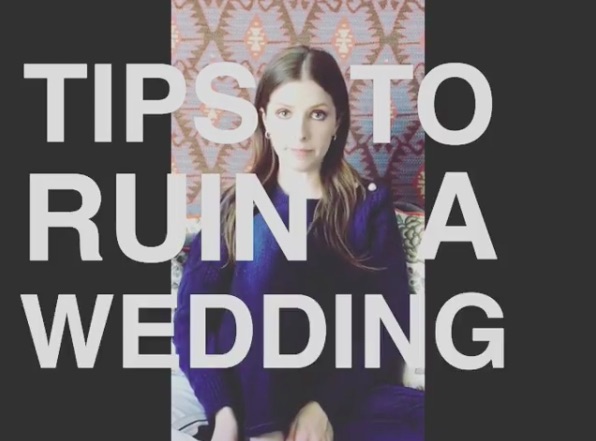 Pleaseeeee someone do this and send us a link to the video.
Then, she offers some advice on how to keep getting invited to weddings in the future: "Write a mean Yelp review of the flower girl. She probably doesn't have a Yelp page, but you should create one."
Bahahaha. Yes.
Or, you could get topical: "When the bride and groom are introduced as husband and wife for the first time, yell 'fake news.'"
And if that doesn't make you the most hated person in the room, you can try this: "You can bring your own cake and ask if everything is gluten free because nothing's going to be gluten-free, and make a really big deal about how hard it's been for you having a gluten intolerance. People want to know."
If all else fails, you could turn to alcohol: "Make today the day that you test your personal champagne limit."
Check it out here:
The Insta video is promoting Anna's newest flick, Table 19. The romantic comedy centers around Anna's character, who was dumped recently by the best man. At the wedding, the bride and groom assign her to table 19, which she later finds out is the table where the wedding's unwanted guests have been placed. She makes friends with the random group of misfits at the table which includes Lisa Kudrow, Craig Robinson, June Squibb, Stephen Merchant, and Tony Revolori. We love them all.
The trailer looks pretty good:
https://www.youtube.com/watch?v=2BrKGHl5EXQ?feature=oembed
Table 19 comes out Friday, March 3rd! More funny videos, please, Anna!