Anna Kendrick defending Gigi Hadid is the definition of #girlpower
While walking to her car after the Max Mara fashion show in Milan on Thursday, Gigi Hadid was attacked by a man who snuck up behind her —  grabbing her and picking her up off the ground.
She was terrified, as anyone would be, and elbowed him in the face so she could escape his grip.
false
Thankfully, Hadid wasn't injured, but she was visibly shaken by the incident (because of course she was, a complete stranger grabbed her). She continued walking to her car, but told her security guards to go after the guy. For some strange reason that we absolutely don't understand, many media outlets and people on Twitter suggested Hadid was wrong to "lash out" at an "overzealous fan."
Sorry, what? Since when is it not completely reasonable, warranted and absolutely necessary for a woman to defend herself from being assaulted by a stranger on the street?
Hadid let all the haters roll off her back and thanked everyone for their support (including her boxing coach).
She wrote, "GIRLS, prepare yourselves so that, if you ever feel in danger, MUSCLE MEMORY can fight back for you. Thank you all so much for ur support.❤️"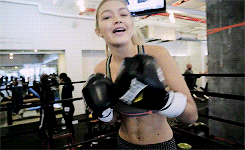 It wasn't all criticism though. Most people were disgusted by what happened and applauded her for reacting the way she did. false
Anna Kendrick is among her many supporters, and she tweeted the most perfect response to Hadid's elbow to the face.
She wrote, "I tend to dislike naturally beautiful people (because I'm petty) but @GiGiHadid with the elbow? Come through!! 😍💪"
YESSS to women supporting women. #girlpower is alive and well. And Hadid's elbow move was legit badass.