Anna Kendrick talks about how scary charming Zac Efron actually is in her new book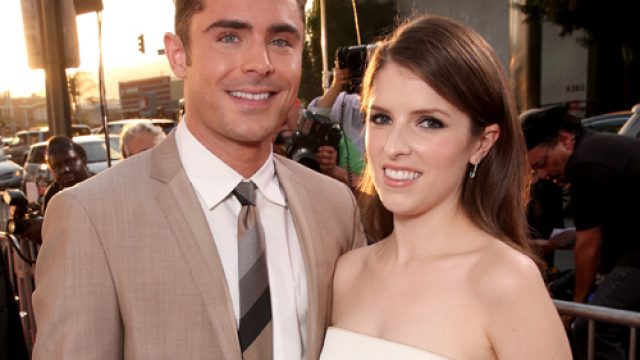 Pitch Perfect actress Anna Kendrick opens up about how charming Zac Efron is in her new book and proves once again why we were right in crushing on him hard after High School Musical first came out.
The 31-year-old actress is finally giving us what we all want, a book about her, and we couldn't be more excited. Scrappy Little Nobody is officially available and you should probably go out and buy it right now, well maybe finish reading this post and then go buy it!
In anticipation of her first book dropping, Kendrick sat down with E! News and revealed what people can expect to find within its pages and luckily a decent amount of it talks about some of Hollywood's hottest men, who Kendrick has been fortunate to work with — ugh if only our lives were this glamourous.
So what is Efron, who was Kendrick's co-star in Mike and Dave Need Wedding Dates, really like in real life? Charming. Like scarily charming, actually.
"I'm morbidly interested in Charles Manson," Kendrick told E! News. "I've always wondered what is it about Manson that was so charismatic? Then I met Zac and was like, 'Oh, there it is.'"
"I'm glad [Zac] hasn't asked me or anyone else to murder someone for him because I probably would," she joked.
While being compared to a crazy person, who was the head of an intense cult isn't the best compliment, we believe that Efron would be beyond charming in person, so we'll let it slide.
Kendrick also admitted that her book mentions Chris Pine numerous times and talks about her feelings when she got to kiss Orlando Bloom.
"I mention Chris Pine three times. I love him so much," she said.
As for getting to kiss the Pirates of the Caribbean actor, Kendrick made sure she didn't mess up that beautiful face during her smooch.
"I wish 15 year old me had realized I was making out with Legolas," Kendrick joked. "[I had to make sure I] didn't permanently damage the money maker."
We are already hooked on Kendrick's book, Scrappy Little Nobody, and we haven't even read it yet. We just love her so much!
To read the actual book, all you have to do is buy it here. You won't be sorry.