We sat down with Anna Faris to talk about potato chips (yes, potato chips)
When Anna Faris isn't playing Christy on CBS's Mom, she's hosting her hilarious podcast Unqualified or hangin' with her adorable 3-year-old son Jack and her husband Chris Pratt. She's also recently taken on something else entirely and teamed up with Lay's to launch their brand new Flavor Swap sweepstakes.
Though you may not initially think of Anna Faris when you think of Lay's potato chips, the partnership really is like two peas in a pod. "I've always been pretty vocal about how much I love potato chips, and I'm definitely a salty-and-sweet snacker as opposed to sweet," Faris told HelloGiggles. We sat down with her to talk about her partnership with Lay's, her favorite foods, and her flavor spirit animal. But wait, before we get into that, here's a photo of Anna (and Chris Pratt's) son Jack because he's so adorable we cannot deal. 
Ok. Time to talk chips.
HelloGiggles (HG): How did you come to partner with Lay's, and could you tell us a little bit about the Flavor Swap?
Anna Faris (AF): They basically came to me! Seriously, everyone knows how much I love potato chips, and I really love savory foods. The partnership has been really great, and it seems like a natural fit, since I'm coming from the comedy world. And what the Flavor Swap is is a sweepstakes, where these new flavors are being paired with the original versions, and people get to vote starting February 8th on their favorites. And the cool thing is, one lucky voter will win $250,000, so that's obviously awesome. And, I mean, it's football season, and what goes better with football than chips?
HG: Absolutely! They all sound really good, but the originals are great, too. Have you tried them all, and do you have a favorite at this point?
AF: I do, actually, but it's really tricky, because cheddar sour cream is an old standby for me and the one it's paired up with, which is smoked gouda and chives, is great too.
HG: Oh, totally. I saw that one and wondered how those flavors would translate to a chip.
AF: It's so good! I think it's my favorite of the new ones, although I like the olive oil and herb as well. I'd have to say the habanero is probably my least favorite, because I'm not that great with spicy foods.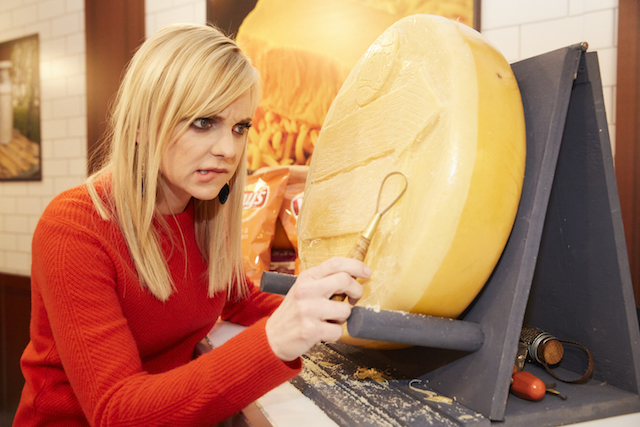 HG: So, the Super Bowl is coming up soon, which is a big snacking holiday. Do you have any special food traditions that you're looking forward to?
AF: I'm all about hamburgers, cheeseburgers, hot dogs, and potato chips. All American, you know? You don't want to mess around with anything too exotic when the focus is on the game. You want to be able to just count on the food being familiar, because there is so much excitement going on with the game — you don't want to be eating a lamb tagine or something.
HG: Got it, no lamb tagine on game day. What about other nights of the week, are you an adventurous eater? What flavors are you drawn to, and is there anything you absolutely can't stand?
AF: I'd consider myself an adventurous eater, and Chris is too, but because he's Norwegian he often craves these intense flavors like anchovies and things, and I can't really deal with that so much. I can handle a caper here or there on a bagel, but I can't go overboard with those briny flavors. I try to be mostly adventurous though, because Chris likes to hunt, and he likes to use it all, you know? So we have these sausages in our freezer that I just stand there and stare at, but it's great, and I admire that he likes to do that. I try to be brave with that stuff.
HG: Have you ever had to eat anything weird for a role?
AF: I've never had to eat anything strange, thank goodness. I definitely have had to do some things that have freaked me out, though, particularly for the Scary Movies, because even though they were so ridiculous there were some stunts where part of the joke was my facial reaction, so they couldn't get a stunt double. One of the things I'm thinking about was a scene on a plane where a food cart hit me in the face, and I was just like, "I guess, let's do it!"
HG: Ok, so this is kind of a variation on the old spirit animal question. If you could pick a flavor that would describe your personality, what would it be? If it helps, mine would be balsamic vinegar.
AF: Oh, I like that! I feel like mine would be something that changes. Something sweet, but with a little extra to it. You know, I think it would be a banana flambe. It seems friendly, but then you set it on fire, and who knows what's gonna happen!
All eight flavors will be available in retail stores when voting opens February 8, 2016. One lucky fan will walk away with $250,000 just for casting their vote at FlavorSwap.com.
(Images via Stephanie Diani/AP Images for Frito-Lay)