Anna Faris and Allison Janney crushed "The Sound of Music" on James Corden's "Crosswalk: The Musical"
What's better than Anna Faris and Allison Janney sharing the screen? Anna Faris and Allison Janney recreating The Sound of Music with James Corden in the middle of a crowded L.A. street. That's right. The actresses teamed up with Kunal Nayyar from The Big Bang Theory and Iain Armitage from Young Sheldon to help Corden pull off his dreams of dangerous musical grandeur.
In case you missed it, Crosswalk: The Musical, is a recurring bit on the Late Late Show with James Corden in which a group of famous people perform musical numbers from popular shows in the middle of crowded crosswalks. It's a whole to-do, and it's hilarious AF. And Faris and Janney, who star in the hit CBS comedy Moms, were naturals.
Take a look:
https://www.youtube.com/watch?v=Mmmw4FmDl-s?feature=oembed
LOL. Faris milking cows while Janney prances across the street is truly the funniest thing we've seen in weeks (not to mention Corden in that wig) . Thank you, James Corden! We needed this. Oh, also, can we take a moment to discuss Faris' yodeling skills? Like we said, we needed this.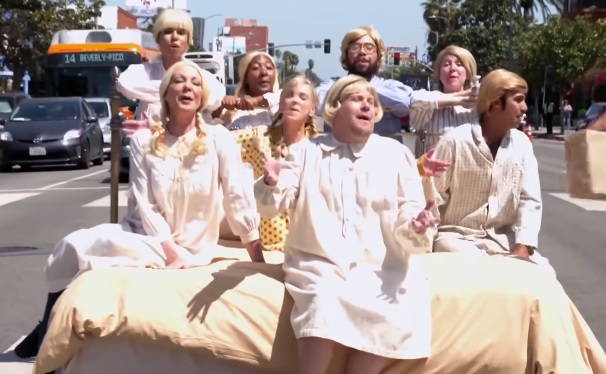 If you're now dying to see more Faris and Janney in their full comedic glory, check out Moms on CBS on Thursdays at 9 p.m. ET.