An animal shelter and an assisted living facility are saving kittens and it's the positivity we need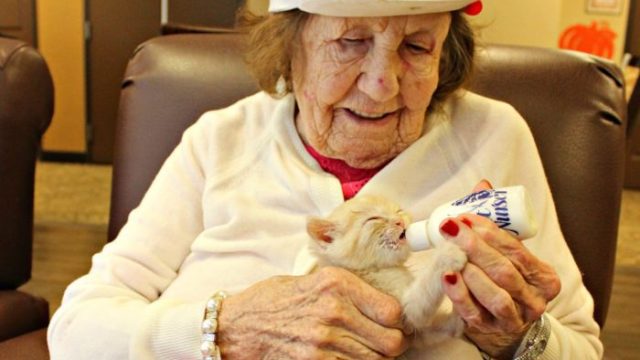 Basically everybody loves kittens, right? Seriously, how can you not love tiny baby cats? Upsettingly, however, kittens that aren't weaned from their mothers before being separated have a low chance of survival.
Now, we totally obsess over cute cats on Instagram, baby animals in general, and have already started planning our cat's Christmas presents. But this story about how the Pima Animal Care Center in Arizona has joined forces with the Catalina Springs Memory Care facility to help save the baby cats is the sort of heartwarming and positive news we need in the world right now.
Two kittens, Peaches and Turtle, made their way over to Catalina Springs in October to launch the program.
Weighing just 7 ounces each (!), the two little ones needed round-the-clock attention and feeding. That's where the residents of Catalina Springs stepped in.
The idea was the genius move of Rebecca Hamilton, Catalina Springs' health service director, who also fosters kittens herself. Approaching the Pima Animal Care Center (PACC), Hamilton thought that teaming up the needy kittens with the residents of the care home could serve two purposes, helping the kittens stay alive and giving the residents something to care for.
"To some it may seem peculiar at first: Residents who are in need of around-the-clock care themselves, given the task to care for these young kittens, Sharon Mercer, Catalina Springs Memory Care Executive Director, said. "But there are skills, emotions and needs that do not just leave a person with Dementia or Alzheimer's. The desire to give love and receive love remains. The kittens have given us the opportunity to nurture this human condition that lies in each and every one of our residents."
The program, has also proven successful, too!
Since arriving at Catalina Springs, both Turtle and Peaches have DOUBLED in weight thanks to the love, cuddles, and feeding from their new carers.
"Without a foster, these kittens would haven't made it, said Karen Hollish, spokesperson for PACC. "And not only are they surviving, they are thriving.
As iheartcats.com reports, the two kittens will soon be taken back to PACC to be spayed and adopted. In fact, a nurse from Catalina Springs will hopefully be taking the two critters home after falling head-over-heels in love with them both.
Catalina Springs resident, Thelma Bradfield, was particularly taken with Turtle and Peaches.
"We had 19 cats, she said. "We fed them in the barn. This one's a little baby and needs a bottle.
According to a statement released on Facebook by PACC, the program has helped saved the lives of these kittens.
Explaining how before they didn't have the resources to support all the animals that came through their doors, the animal shelter thanked the residents of Catalina Springs.
"Last year, we took in more than 2,100 kittens, and it is only through creative and caring programs like this one that we will achieve our goal of saving every one we possibly can. We can't thank Catalina's Health Service Director, RN Rebecca Hamilton, and the staff and leadership of this organization, for embracing these kittens and partnering with us to save them and bring joy to their residents' lives," they wrote. "We are humbled, inspired and stunned by the love the residents at Catalina Springs Memory Care are showing to these orphaned foster kittens, Turtle and Peaches."
Well, isn't this just the sweetest, kindest, and most wonderful story you've heard in AGES. With all the negativity and misery that gets reported, it's so nice to see people reaching out and helping others.
Hopefully, thanks to programs like this one, more tiny kittens will have the chance to survive, and the residents of Catalina Springs will have something wonderful to look after.