These animal-shaped ice cream cones are the cutest thing we've ever wanted to devour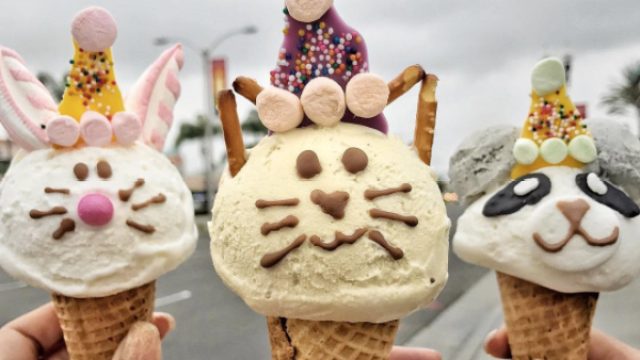 Okay, well these are the cutest treats ever! Attention: animal shaped ice cream cones exist and we want to eat them right this minute.
There are a LOT of delicious ice cream creations, but this has to be the most adorable one out there. Some flavors are weird beyond compare, while other creamy concoctions are designed for pop culture fans. Seriously, there are pints of Gilmore Girls ice cream and Mean Girls ones as well.
These creative cones however are shaped into animals and we can't stop looking at them.
Thanks to Eiswelt Gelato in Westminster, California, you can have your ice cream and look at your favorite animal at the same time. Seriously, they have everything from chickens to bears and each one is both pretty and delicious.
Look at their marshmallow noses and chocolate details. They are SO adorably edible and we need one right now.
Three little piggies all in a stack — with different flavors at that!
They're almost too cute to eat…almost.
While visiting the unique gelato shop you can also get ice cream flowers, in case animals aren't your style.
If it was up to us, we'd try one in every flavor and every animal. The cones are just too fantastic not to want them all. Oh, and you'd have to share it on social media, because again they are too fabulous to keep to yourself.
For all of you who are now planning a trip to Westminster — keep in mind ice cream in winter is still a good idea — check out more information here.
PS: You can get a gelato animal cone, or a regular scoop or two for anywhere from $3.50 to $5. That's a pretty great deal, don't you think?