Angry Splash Mountain Mom reveals what was happening in that hilarious photo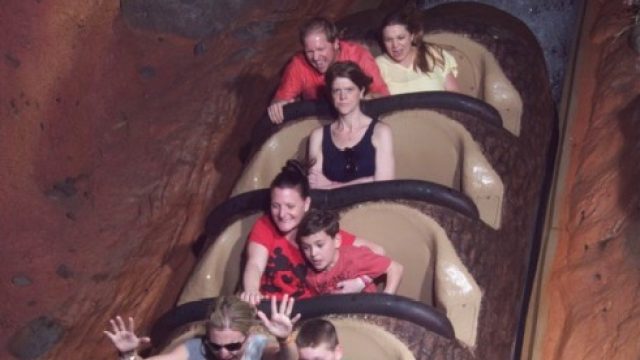 Remember a few weeks ago when a souvenir photo of an angry mom having the worst time ever on Splash Mountain went viral? Well Angry Mom wants the world to know that she isn't angry anymore, but she definitely was not happy with her husband that day at Disney World.
Since she became somewhat of an Internet legend overnight, Jordan Alexander talked to People and set the record straight as to why she was mean mugging the camera.
It all went down (literally) on March 1st, when Jordan, a 35-year-old nurse from Minoa, New York, was at Disney World with her husband, their one-month-old son, and her mom. But let's rewind a bit.
Growing up, Jordan and her family took an annual trip to Disney World, and Splash Mountain was her favorite ride. She was really hoping to experience the magic and all the nostalgic feelings with her husband, Steven, but they had to keep postponing the trip due to Steven's kidney transplants. Which is of course a super legit reason to not go to an amusement park.
They were finally able to make it to Disney World last January, but her favorite ride was closed for repairs. So they went back AGAIN in May, but she was pregnant, so she skipped the ride altogether.
Finally March 1st rolls around, and Jordan thinks she's finally going to be able ride Splash Mountain with her husband. Because why wouldn't she be able to? Everyone was healthy and neither of them were pregnant. Except Steven, who's "not a ride guy," decided that he wasn't feeling it, so he opted out of joining his wife who had waited for SO long to ride with him.
"He just said, 'Oh, I don't have it in me,'" Jordan told People. "And I was like, 'You don't have it in you to sit in a log in the water?'"
Naturally, she was pissed.
"I was cranky," she admitted. "I was exhausted, and when that happens everything became super-heightened, so the smallest thing becomes the biggest thing. I kind of marched off. It was not my finest moment."
But she felt like her husband deserved documented proof of her annoyance.
"I have a resting bitch face and Steve always makes fun of me for it – he calls me Captain Not Amused – so I thought I would make a joke out of it and get the resting bitch face on camera," she said.
Even though she was super annoyed at the situation, Jordan said she hammed it up a bit for the camera.
"I wanted a memento of how annoyed I was," Jordan said.
Hearing the backstory makes us love this meme even more — and we are definitely #teamjordan on this one.