Angelina Jolie once attended a premiere in a urine-stained dress, and moms everywhere can relate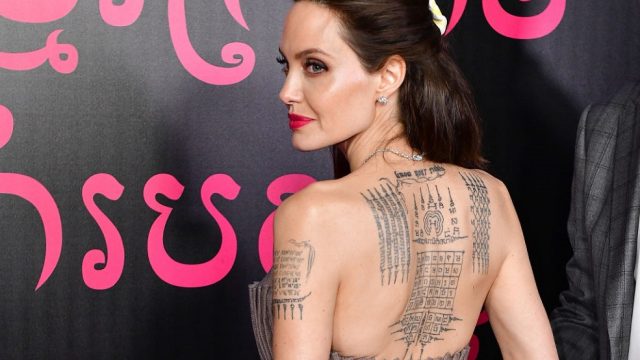 While we know her for her incredible on-screen roles, Angelina Jolie is a mom of six kids when the cameras aren't rolling — and sometimes that mom life isn't super glamorous. For example, Jolie stated that she once had to attend a premiere in a dress that had just a little bit of pee on it, because — well — babies can be a little unpredictable.
Jolie revealed all in an interview with AP that took place during the Toronto International Film Festival. And while she didn't reveal the movie (or the child, which we totally get) we're just pretty impressed over her attitude about the whole thing.
"I actually went to a premiere once with pee on me," Jolie stated. "It was when the kids were little and I just got peed on at the last minute. There was nothing to do but wear it."
Spoken like a true pro.
While she's always been about her kids, Jolie has been more open about the importance of her family life these days, even bringing her brood to a few of the events in Toronto. But even though she's been working hard on her new film First They Killed My Father, she noted to AP about how it was important to take a bit of time off to truly focus on her kids.
"I've needed to take over a year off just to be with my kids," she said. "All I've done is some of my humanitarian work and my teaching. I've done nothing else for over a year. Now that they're all older, the decisions really have to be made together because they home school and they'll be with me and they have a lot of opinions about what to do."
While her dresses are pretty much in the clear these days, it's nice to know that all of Angelina Jolie's choices have her children's best interest in mind.