Angelina Jolie wore the most un-Angelina Jolie dress to the 2018 Critics' Choice Awards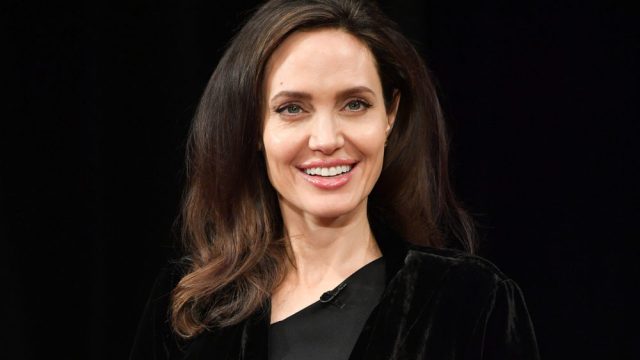 There's no denying that Angelina Jolie is a fashion icon in her own right, and she rarely strays from her signature style — especially on the red carpet. Jolie tends to keep her hair and makeup classic, while almost always wearing black or a minimalist look.
But sometimes she'll surprise us, showing up in an unexpected pop of color, like last fall when she wore a stunning grey princess gown to the New York premiere of her film First They Killed My Father. She also turned heads in an equally beautiful hot pink dress in Cambodia for the premiere of the same film. We love when she does the unexpected, so needless to say we were giddy when she showed up to the 2018 Critics' Choice Awards in an ethereal winter white custom Ralph & Russo gown.
Jolie celebrated the night out with her friend and collaborator, Loung Ung, who wrote the book that First They Killed My Father is adapted from. Both ladies looked wonderful, but we can't stop swooning over Jolie's strapless, white silk crêpe pencil gown. According to People.com, the bodice featured devoréd ostrich feathers and an asymmetrical skirt.
Jolie kept her jewelry simple, adding sparkling earrings and a ring by jeweler to the stars Neil Lane. She topped the look off with pointy-toe silver heels, and wore her hair pulled back in soft waves. She added her signature bombshell eye and a bold red lip, looking like a vintage Hollywood movie star.
We hope the activist and mom-of-six had a fabulous night out, and we can't wait to see what other surprising fashion choices she debuts in 2018.