Angela from "The Office" posted a #tbt with Pam that will make you miss the show even more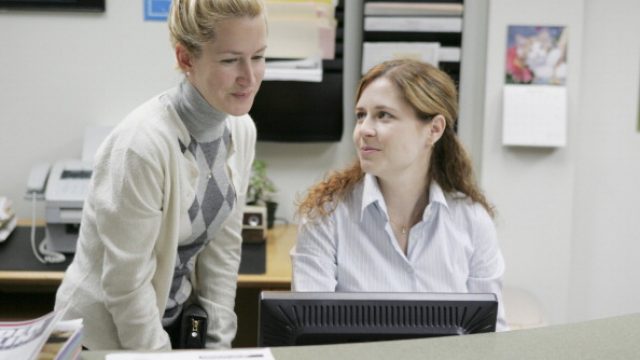 How much do you miss The Office? There is no way that I am the only person who routinely binge-watches all nine seasons as a comforting mechanism.
https://www.youtube.com/watch?v=oECkFYVwIKo?feature=oembed
Though the series based on the U.K. comedy of the same name ended in 2013, we can thank the stars' Instagram accounts for regularly taking us behind the scenes of the beloved program, and reminding us that The Office cast still hangs out in real life. We should be especially grateful to Angela Kinsey, who played Puritanical accountant Angela, and Jenna Fischer, who played art school-dreaming receptionist Pam (and one-half of everyone's favorite couple, Jim and Pam).
Angela constantly posts throwbacks from days on set.
I am also thankful for your time together.
Ugh, the warehouse. <3
It's the party planning committee!
Jenna Fischer's Instagram frequently includes cast reunions and activities with Angela, who also happens to be her #BFF.
OSCAR!!!
I believe this is referred to as #goals.
And today, in support of Jenna's co-starring role in the new comedic play, Meteor Shower, Angela posted another incredible throwback snap from the first season that makes us wish the show lasted forever, and makes us feel things about Jenna and Angela's beautiful, long-lasting friendship.
Please note Phyllis' thumb blocking the camera lens (been there, gurl!!), Rainn Wilson's (aka Dwight's) head in the corner, and John Krasinski in a classic Jim pose.
Also:
"#tbt to season 1 of #theoffice when I met the gal who would become my anchor through life."
Our only solace after The Office's emotional ending is the fact that Angela and Pam are friends forever <3333