Angela Kinsey on How the "Office Ladies" Podcast Changed Her Friendship with Jenna Fischer
"We have a whole new level of respect for one another and each other's work ethics."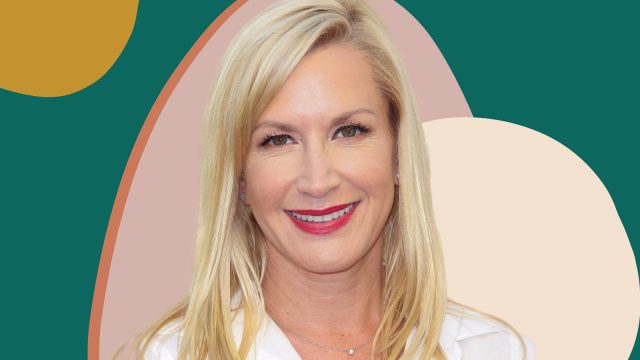 On NBC's The Office, stern and snarky accountant Angela Martin and sweet and timid secretary Pam Beesly never got along. However, the actors who played the frenemies (Angela Kinsey and Jenna Fischer, respectively) actually became best friends behind the scenes over their nine years on the series. As Kinsey tells HelloGiggles over an October phone call, the unlikely duo ate lunch together on set every day over the show's run, and when the beloved series ended in 2013, the pair immediately thought, "'Okay, how can we work together again?'"
It took six years, but in 2019, the BFFs landed the ideal joint project: Office Ladies, a weekly podcast in which the actors rewatch episodes of The Office one-by-one and offer BTS details while interviewing former producers, writers, and castmates like Mindy Kaling and Ed Helms. The podcast, which won the 2019 Discover Pods Award for Best TV and Movies Podcast, just celebrated its one-year anniversary, and Kinsey says that the past 12 months of podcasting have "flown by".
And although combining personal and professional relationships doesn't always turn out well, Kinsey says that her partnership with Fischer has been smooth sailing.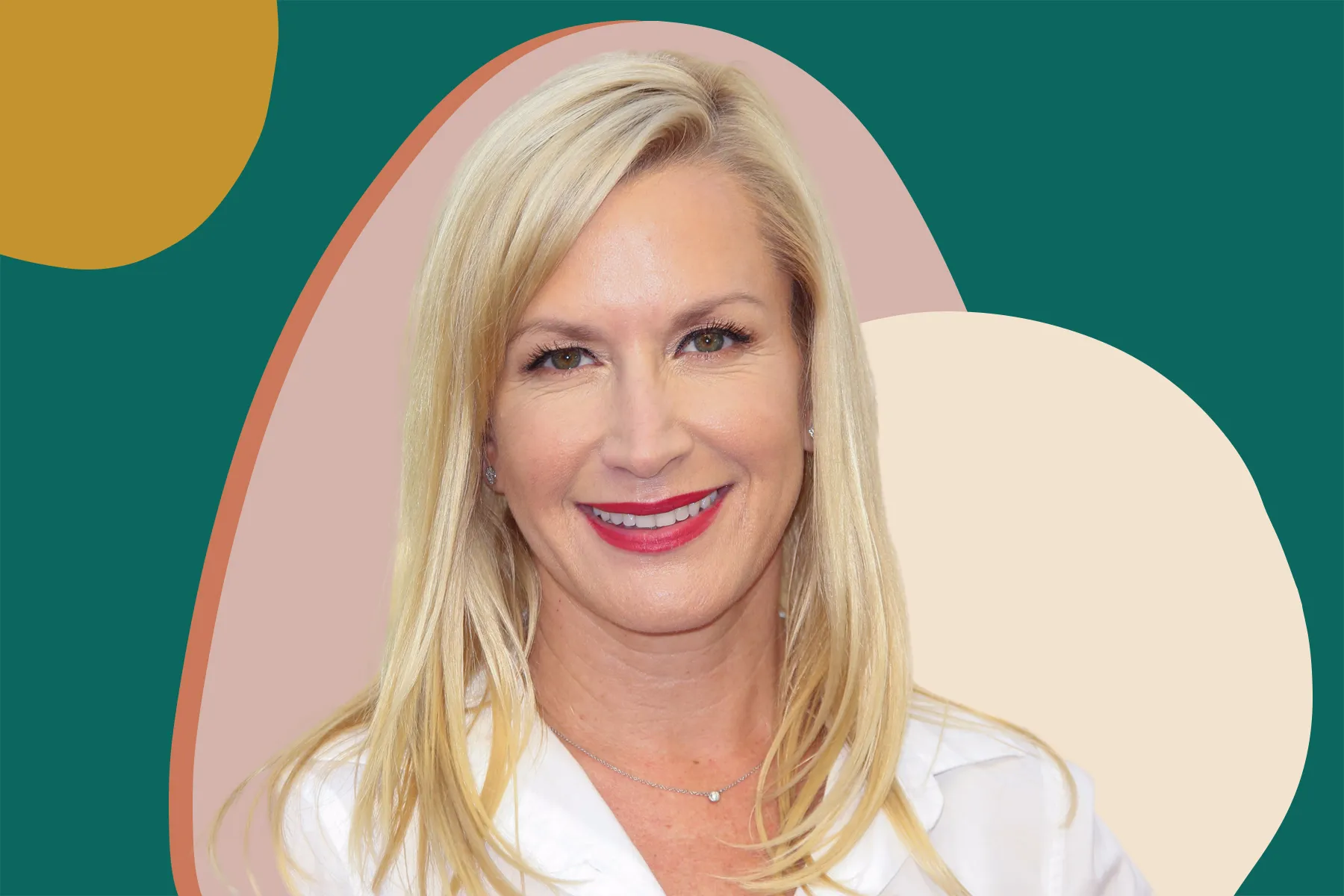 "There were people within our circles who were like, 'Hey, it can be tricky becoming a business partner with your best friend. Are you worried about how your friendship will be affected?'" Kinsey reveals. "But we both felt really certain that we were gonna be just fine—and not only have we been just fine, but we've really, truly deepened our friendship. We have a whole new level of respect for one another and each other's work ethics. Jenna makes me want to do better, and vice versa."
While Kinsey and Fischer may not have run into issues as co-hosts, the podcast itself hasn't been blip-free—especially when the duo was forced to leave their studio behind and begin recording the show separately from their homes at the start of the pandemic in March.
"Jenna and I both tried out three or four different closets in our houses to try to find the best sound," Kinsey remembers. "With kids Zooming for school and pets around, I found that my husband's [actor Joshua Snyder] closet was the best for sound. We dug out our kids' fort building kit full of clamps and things, and [my husband] hung a blanket [for a background]."
Like many of us who are working from home right now, Kinsey is no stranger to frustrating technological issues. The actress says that her house's internet connection is so horrible ("it's like a dead zone") that she recently returned to the recording studio to co-host Office Ladies alone in an enclosed room, while Fischer remains in her own makeshift closet studio.
"When we interviewed Mindy, I got bumped out of the Zoom like three times," Kinsey recalls. "Jenna and Mindy were just like, 'Ang? Ang?' and I'm like, 'ahh!' I was freaking out trying to log back on."
Still, despite the initial struggle of adapting to a totally foreign mode of podcasting, Kinsey says she's grateful to have a stable job during this time. "Being able to work with Jenna and have the podcast every week to sort of drive my week during these very uncertain times—and when so much of the entertainment industry is on pause—has been so healing and wonderful," she says.
In the years since The Office ended, Kinsey hasn't just reconnected with her former costars via interviews on Office Ladies; the actress has also teamed up with several of them for onscreen projects. Most recently, prior to the pandemic, Kinsey reunited with Kaling (whom she says she views as "a little sister") for the star's Netflix series, Never Have I Ever, which is loosely based on Kaling's experience as an American-Indian teenager. Kinsey plays Vivan Gross, an extremely rich woman who often embarks on lavish trips with her husband, leaving their teenage son behind. The show was renewed for a second season in July.
"Mindy texted me, 'Hey Ang, we've got this small part, the role of Ben's mom, and we'd just love for you to do it,'" Kinsey recalls. "I didn't even know much about the project, but if Mindy texts me, I'm like, 'Mindy, it's just yes. Fill me in later. The answer is yes.'"
Kinsey jokes that she's recently "hit [her] stride playing the mom" via guest-starring roles on shows like Netflix's Hater's Back Off and Tall Girl. She says she loves "playing around" with characters who aren't just "the bitch", like the role who brought her fame, Angela Martin—even though she thoroughly enjoyed embodying that personality.
"I'm not very confrontational and I don't want to make a fuss, so to play someone who gets to do that when I'm not really like that in real life was so fun," the actress continues.
But playing a character with a polar opposite personality from her own wasn't all fun and games; as it turns out, Kinsey's role on The Office actually took a toll on her physical health. "Imagine wearing a very severe bun or ponytail that had multiple bobby pins for like 12 hours every day for five days," she says. "By the end of the week, I would have this massive headache. Eventually, I was like, 'Oh yeah, I'm frowning and my hair is in a super tight bun, so no wonder!'"
To combat the pains she dealt with on set, Kinsey turned to Advil, for which she's now a partner. Because while her days of frowning her way into headaches might be over, the 49-year-old star—who's a mom to one daughter (with ex-husband and Office writer/producer Warren Lieberstein) and step-mom to two sons—has a new slew of aches and pains to deal with on the daily.
"My kids are 12, 12, and 10, and they're always jumping on things or trying to climb stuff," Kinsey explains. "I was always the mom who did all that too: I was on the jungle gym, I was on the trampoline, but I've noticed that it's getting a little harder for me. [My kids] wanted to do cartwheels in the backyard the other day, so I did a cartwheel, and it felt like I'd been in a car accident," she adds, laughing.
Fortunately for Kinsey, Advil just launched a new formula, Advil Dual Action, which has been helping the podcaster fight things like cartwheel-induced pains during quarantine. Aside from outdoor activities, Kinsey says she and her kids have been spending the recent months bonding while watching TV shows like The Great British Bakeoff. "It's just all the good feelings," she says of the popular show. "It's very charming people from the UK in a tent in this green meadow, and I just love that my daughter and I are able to share it and enjoy it together."
Plus, since Kinsey has to re-watch The Office episodes in preparation for Office Ladies each week, her kids have joined in on the fun during their lunch breaks from virtual school. "Obviously, there are some episodes where I'm like, 'we might need to skip that one, that's not age-appropriate,'" Kinsey says, laughing. "But there are lots [of episodes] that they crack up over, and that's been a joy for me to see them enjoying it on their own for the first time."
Since its premiere in 2005, The Office has remained one of the most popular and universally-loved shows by people of all ages. And these days, during such a stressful time in our lives, Kinsey thinks she knows why the series still resonates with such a wide audience.
"With the state of the world right now, when you never really know what's happening from day to day, this show brings people comfort," she says. "You always know where Pam is going to be. You always know that Jim is going to look at the camera and let you know that Michael is being crazy. Everyone is going to be where they're supposed to be, and I think there's a real sense of comfort in that. I think for a lot of people, The Office just feels like home."