Angela Bassett was misidentified as Omarosa in a NYT photo caption, and people are (rightfully) pissed off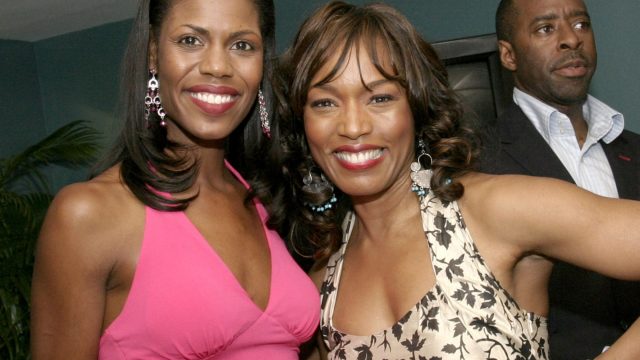 In the latest infuriating example of "all people-of-color look alike," Oscar nominee Angela Bassett was misidentified as former White House aide Omarosa Manigault-Newman in a New York Times photo published on Tuesday, September 18th.
The photo in question showed Bassett and fellow actress Tiffany Haddish presenting the Emmy for outstanding lead actress in a comedy series to The Marvelous Mrs. Maisel star Rachel Brosnahan. Somehow, the paper of record identified Bassett as Manigault-Newman—who didn't even attend the 70th annual Emmy Awards on September 17th.
The misprint is reportedly the fault of Getty Images, which has since corrected the captions and issued the following statement, according to Yahoo! Entertainment:
"The erroneous mention[s] appearing in the metadata of this photo by Robyn BECK has been modified in AFP systems in the following manner: [Angela Bassett] instead of [Omarosa Manigault Newman]. […] We are sorry for the inconvenience this notification may cause and remain at your disposal for any further information you may require."
However, the responsibility to fact-check those captions before publication almost certainly falls on the Times itself, which printed its own correction:
"A picture caption with an article on Monday about the Emmy Awards, using information from a photo agency, misidentified a woman presenting the award for outstanding lead actress in a comedy series. The woman was Angela Bassett, not Omarosa Manigault-Newman."
It didn't take long for Twitter to express outrage over the mixup.
"Hey Everybody, no worries!" Bassett tweeted Tuesday, alongside a meme of Scandal's Kerry Washington that reads, "It's handled."
Sadly, this is far from the first time a mistake like this has occurred. Just weeks ago, Fox News' tribute to Aretha Franklin, the late Queen of Soul, featured an image of singer Patti LaBelle instead. Even sadder? We're sure this isn't the last time one woman of color will be mistaken for another. Saying it one more time for the people in the back: it's 2018, and these offensive and problematic "errors" should no longer be happening.
Let's try to do better, please.