It's happening! Andrew Lloyd Webber's *final* free live stream is his most iconic musical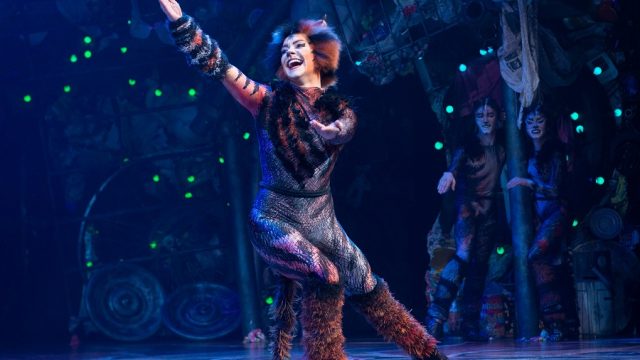 This post will be continually updated to reflect the latest Broadway musical live stream announcements.
Broadway fans, listen up. Andrew Lloyd Webber—the musical genius behind Broadway classics like Cats, The Phantom of the Opera, and Evita—is live-streaming his shows for free during this period of social distancing. Every Friday, Lloyd Webber will debut one of his classics via his YouTube channel "The Shows Must Go On!" So get ready to cozy up on the couch with a glass of wine and sing along.
"The Shows Must Go On!" kicked off Friday, April 3rd, with the 2000 adaptation of Joseph and the Amazing Technicolor Dreamcoat. This version of the show starred Donny Osmond, Maria Friedman, Richard Attenborough, and Joan Collins. On April 10th, the channel aired the 2012 arena production of Jesus Christ Superstar, starring Tim Minchin, Mel C from the Spice Girls, and Chris Moyles.
On April 17th, Webber streamed a true classic: The Phantom of the Opera. Phantom is Webber's greatest hit and the longest-running show in Broadway history. But its sequel? That's not as universally beloved. The YouTube channel streamed the controversial Love Never Dies on April 24th. May 1st, he launched his star-studded 50th birthday concert from Royal Albert Hall. On May 8th, it was time for his notorious flop, By Jeeves.
Now, for Webber's final The Shows Must Go On free performance, Cats is streaming right now—no CGI, just the iconic stage musical.
Sadly, yes, after this weekend, its curtains for Webber's free musicals. So take this opportunity to watch Cats as it was originally intended. The Jellicle Ball started streaming at 2 p.m. EST today and will be available to watch for a full 48 hours.
https://www.youtube.com/watch?v=TAAaq7M0aXs
Though the musicals are being shown for free, the YouTube channel offers links to donation pages for arts programs, including Acting for Others, Broadway Cares, and the Actors Benevolent Fund of New South Wales. So you can still support the arts while you have your at-home date night.
If you're not getting enough Broadway in your life, there are loads of other ways to live-stream performances from your couch. PBS, YouTube, and other services are airing Broadway shows for free or for a small donation. And if you're an Andrew Lloyd Webber stan specifically, the producer is hosting his own singalongs on Facebook.
Friday night is officially Broadway night. Tune up your vocals and get ready to belt the classics.
As information about the coronavirus pandemic rapidly changes, HelloGiggles is committed to providing accurate and helpful coverage to our readers. As such, some of the information in this story may have changed after publication. For the latest on COVID-19, we encourage you to use online resources from CDC, WHO, and local public health departments, and visit our coronavirus hub.