Our worlds are colliding in the best way — Andrew Lincoln is narrating the "Quidditch Through the Ages" audiobook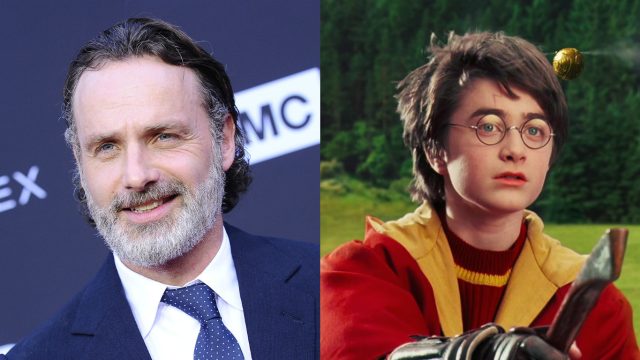 Harry Potter and The Walking Dead are about to have an unexpected crossover, because Pottermore and Audible have just revealed that Andrew Lincoln will narrate the audiobook version of the Hogwarts library book Quidditch Through the Ages — wow, that's a mouthful. The textbook, which was written by renowned quidditch expert Kennilworthy Whisp (JK, it was written by J.K. Rowling herself, under one of her Wizarding pen names) in 2001 to benefit Comic Relief, and this marks the first time the book will be released as an audiobook.
Quidditch Through the Ages, which guides readers through the extensive history and rules of the iconic wizard sport, is one of the many real-life versions of the fictional books mentioned throughout the Harry Potter series. The audiobook will additionally feature commentary from retired professional quidditch player Ginny Weasley, as well as Rita Skeeter.
"The Wizarding World is one that I always wanted to get the chance to step into, said Lincoln, in a statement. "What makes this project so special, is not only that it allowed me opportunities to create something my kids love and enjoy, but it also supports great causes, like Comic Relief and Lumos.
Pottermore will be also donating a percentage of proceeds from the Quidditch Through the Ages audiobook to Sport Relief, as well as Rowling's charity, Lumos.
Quidditch Through the Ages is just the latest Harry Potter companion book to be released as an audiobook. Last year, Pottermore released an audiobook edition of Fantastic Beasts and Where to Find Them, read by Eddie Redmayne, who stars as Fantastic Beasts' author Newt Scamander in the film series of the same name.
Pottermore will be releasing the audiobook on March 15th, but it will be available exclusively to preorder on Audible. So get ready to read up on all 700 fouls and choose your team if you haven't already — and it better not be the Tutshill Tornados, unless you want Ron to call you a bandwagon fan — with the sound of Andrew Lincoln's magnificent voice.