Andrew Garfield revealed he's Emma Stone's "biggest fan"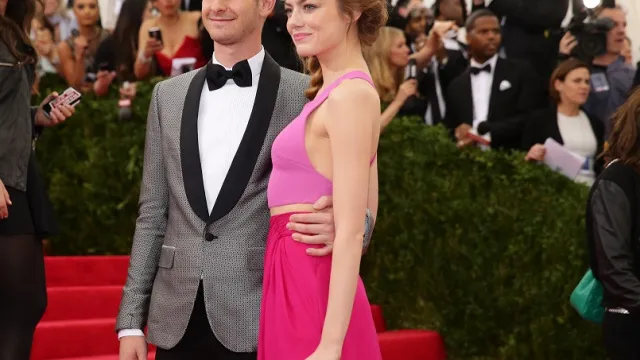 While we wish they'd get back together, at least these two celebrities are still friends. When asked about his ex's most recent movie, actor Andrew Garfield said he's Emma Stone's "biggest fan." Not only is that adorable, but it's incredibly professional.
The two met on the set of The Amazing Spider-Man back in  2010, and relationship rumors sparked up around 2012. Garfield admitted back then that the two had incredible chemistry. While they split in 2015, they've shown nothing but love and respect for each other since. Garfield especially has seemed pretty proud of Stone's award-winning work in La La Land, giving her a standing ovation at the Golden Globes. false
Since Stone is starring in the recently released Battle of the Sexes, it makes sense that people would be interested in Garfield's reaction to the movie.
Garfield, who is promoting his own movie called Breathe, said there was no box office competition between the two.
"I haven't [seen it] but I'm very excited to," he told E! News. "I'm nothing but supportive and her biggest fan."
We have a suspicion he's going to be true to his word.
In Battle of the Sexes, Stone plays Billie Jean King, a tennis player whose match against Bobby Riggs was one of the most highly watched events back in the '70s. The movie itself is pretty important for women — and outside the courts, King herself went on to fight for equality and social justice, making her an important icon in women's history. We think that Stone was absolutely the perfect choice for the role, and we're sure that Garfield would agree.